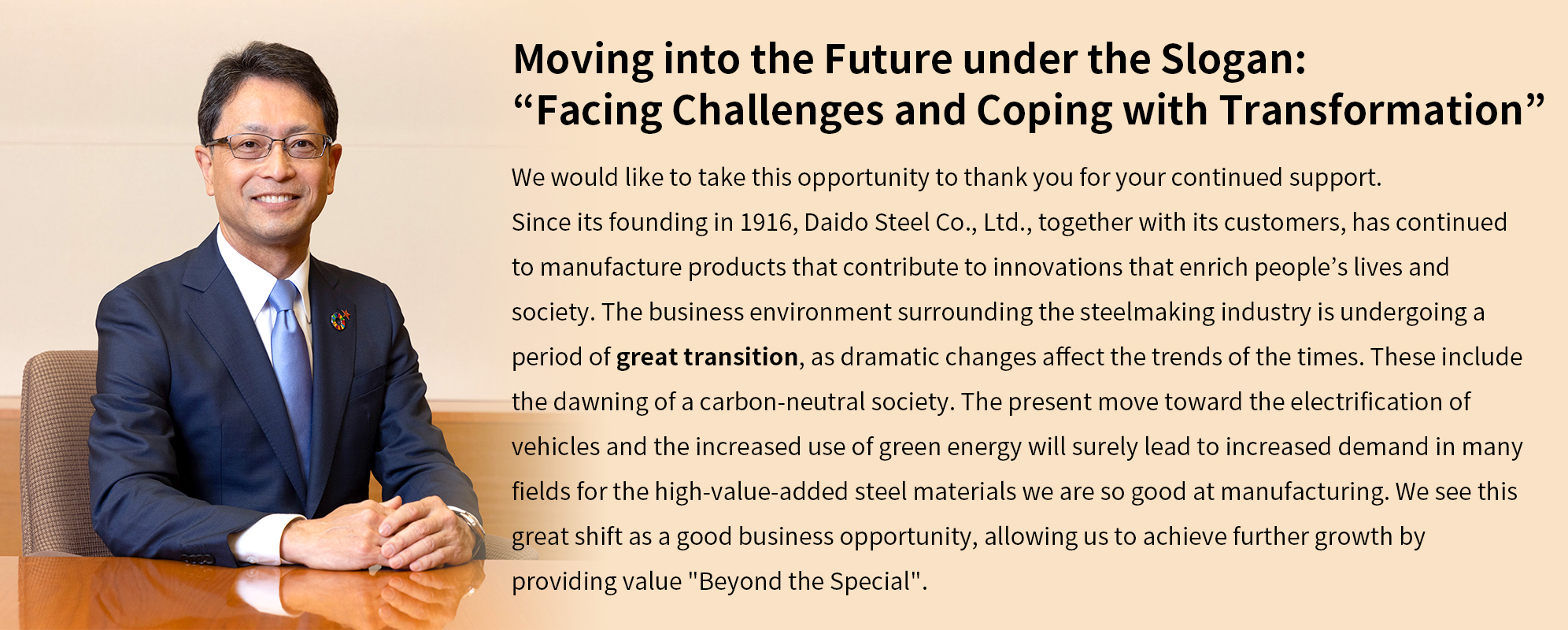 In this period of great transition, said to be a once-in-one-hundred-year event, I believe it is my responsibility to present Daido Steel Group's direction to "face challenges and cope with transformation" for the future, both internally and to the world at large, and then to proceed to implement the strategies to achieve the target.
I have set forth policies under four management categories for coping with transformation.
1. Capturing Growth Markets
We will capture the demand for our high-performance specialty steels (high-performance stainless steel, superalloys, magnets, semi-magnetic materials, titanium, etc.) in the growth markets of automotive CASE-related products (mainly resulting from electrification), semiconductor-related products (manufacturing equipment), green-energy-related products, aerospace-related products, and medical equipment-related products.
2. Managing the Transitions of Existing-Business Products
The demand for specialty steel products for engines and transmissions, which have been our mainstay products to date, will probably peak in the near future, as automobile electrification advances. However, we will support this automobile industry transition, by maximizing the value of and maintaining stable supplies of those products through strengthening the business structure.
In addition, as a specialty steel manufacturer that is a leader in using the electric arc furnace, we are going to transform the value of existing-business products by making the most of our low-CO2-emission steel products.
3. Promoting the Achievement of Carbon Neutrality – The Daido Carbon Neutral Challenge –
By 2030, we aim to reduce our CO2 emissions by 50% of those of our fiscal 2013 level, and to achieve carbon neutrality by 2050, by promoting thorough energy conservation and using CO2-free electricity.
4. Developing Human Resources for Safe and Efficient Manufacturing
We aim to be a corporate group that continues its relentless pursuit of "monozukuri", a way of manufacturing that brings together a diverse range of people's capabilities. We will promote investment in human resources, aiming to enhance the value of each and every employee and create a healthy and safe place for work that facilitates self-realization.
As a materials industry, we help support a wide variety of other industries. Our mission is to keep on meeting our customers' needs and contributing to society, while we adapt our business to meet the changes that are coming. We will continue to take on the challenge of providing value "Beyond the Special," the Daido Steel Group's slogan, and strive to achieve our vision for 2030 of contributing to bringing about a green society, by mastering high-performance specialty steel technology. Aiming at achieving this vision, Daido Steel will strive to continue to promote the sound management of the Daido Steel Group as a whole.
We would like to ask for your continued support and guidance for the Daido Steel Group.
President & CEO,
Representative Executive Director
October, 2023