Daido Steel has created and put into practice a Group-wide environmental management system.
Daido Steel has been an industry pioneer, having obtained ISO 14001 series certification since 1996, with all manufacturing plants having completed the series certification by 1999. By 2006, all the manufacturing companies of the Daido Steel Group had certification. Furthermore, the transition to the 2015 version of the certification was completed in 2018.
For smooth and uninterrupted operation of this management system, Daido Steel is making a thoroughgoing effort to carry out the PDCA (plan-do-check-act) cycle to ensure the execution of environmental policy, action goals, and plans.
【PDCA Cycle】
P

lan
Prepare plan based on results and projections.

D

o
Manage operations in accordance with the plan.

C

heck
Verify whether operations are being implemented according to plan.

A

ction
Review, revise and improve the portions that do not comply with the plan.
Environmental Energy Management Cycle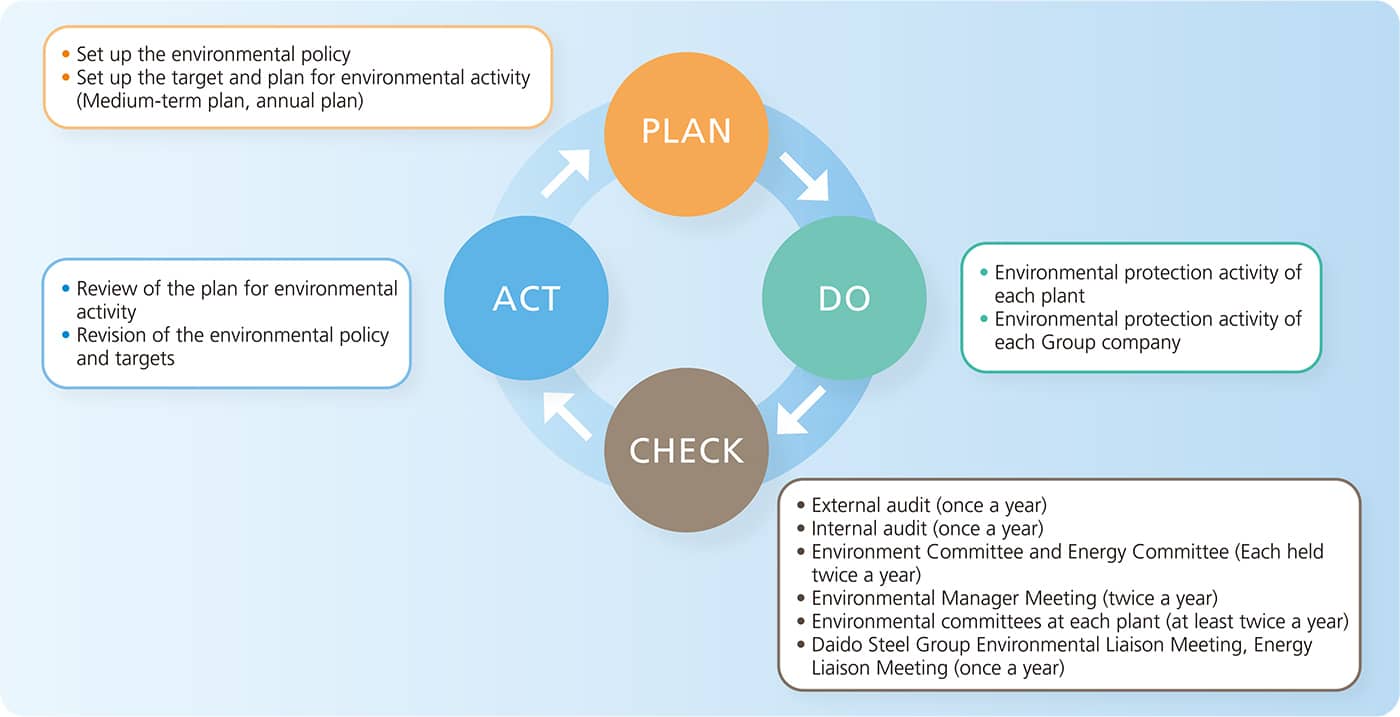 Promotion System of Environmental Energy Management
Daido Steel holds meetings of the Environment and Energy Committees twice annually where issues in all areas and necessary measures are discussed and Company-wide approaches to these issues are determined. Following decisions, the Environment Department and Technical Planning & Administration Department call environmental and energy managers of the entire Company for the smooth implementation of Company-wide actions.
Daido Steel also holds a Group Communication meeting on environmental energy once per year for Group companies, which serves as a place to share information and communicate about initiatives both inside and outside the Group. They check the implementation status of the actions, and conduct internal audits by making environmental inspection tours.
Environment-focused Equipment Inspection
At the Hoshizaki Plant, equipment designated as likely to affect the environment is carefully inspected once per month as a part of our Environment Key Equipment Inspections program. A team consisting of the deputy plant manager, the pollution prevention manager and persons in charge of the equipment makes every effort to prevent serious environmental incidents by conducting individual equipment inspections, checking the operations of measuring equipment, and running emergency simulations.
Special Environment Patrols
At the Chita Plant, feedback from daily environment patrols has been used to identify important environment-related items for inspection. The plant is divided into four areas that are subject to special environment patrols once a month by teams consisting of all plant managers, labor union representatives, managers from yard partner companies, and members from the plant's environmental department. These patrols aim to prevent environmental incidents from occurring by collecting frontline, local information about the environment.
Environmental Education
Daido Steel takes various actions internally to increase environmental awareness, such as the use of training systems, regular awareness campaigns, and environmental education by outside experts. Daido Steel also engages in public activities such as supporting eco-campaigns and building models to help illustrate environmental conservation and nature protection.