Production flow of Daido Steel
The production system of Daido Steel has a flow suited to environmental conservation, right from the start, as 87 percent of the materials, which are mostly iron scraps, are recycled products. To address the problem of exhaust gas in the production process, Daido Steel has switched fuels and improved the specific fuel consumption, thus achieving significant emission reductions. Coproducts generated in the manufacturing process are effectively utilized for internal recycling and external sales of re-produced products such as base course materials.
Investment for Environmental Conservation
The Daido Steel Group has continuously implemented environmental protection measures over many years, including the introduction of dust collection equipment, switching fuels to reduce SOx and NOx emissions, the introduction of continuous casting machines that made it possible to increase yields and omit processes, the introduction of technology to reduce fluorine in wastewater, and the introduction of energy-saving devices such as regenerative burners and cogeneration systems. As of the end of fiscal 2009, total cumulative investment in such equipment had reached 56 billion yen. Key investments in fiscal 2009 were undertaken to respond to slag fluorine regulations and enhance steel dust collection equipment.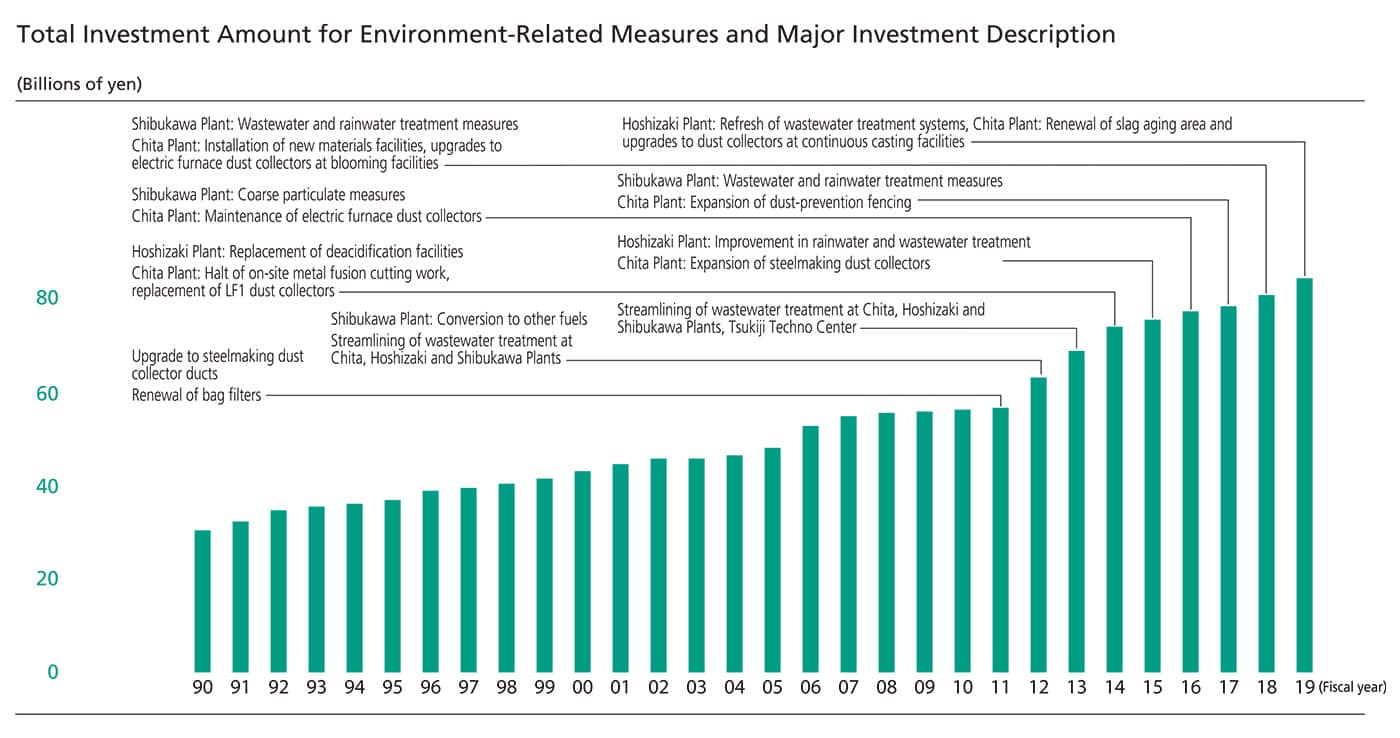 Environmental Conservation Costs
The total investment cost of measures taken for environmental conservation during the fiscal years 2007 to 2009 were tabulated, and the results quantified according to guidelines issued by Ministry of the Environment. The results are as follows:
Results
(One million yen)
| | | | |
| --- | --- | --- | --- |
| | 2007 | 2008 | 2009 |
| Waste recycling | 1,111 | 1,129 | 856 |
| Landfill control | 487 | 272 | 350 |
| Reduction of waste | - | - | 23 |
| Total | 1,599 | 1,401 | 1,229 |
Costs of Environmental Conservation
(One million yen)
| | | | |
| --- | --- | --- | --- |
| | 2007 | 2008 | 2009 |
| 1. Business costs | 5,602 | 6,712 | 5,753 |
| 2. Up- and downstream costs | 1,513 | 1,679 | 831 |
| 3. Cost of management activities | 291 | 448 | 298 |
| 4. Cost of environmental R&D | 2,359 | 2,587 | 3,170 |
| 5. Social activity cost and R&D cost | 37 | 41 | 34 |
| 6. Cost of response for environmental damage | 160 | 214 | 153 |
| Total | 9,962 | 11,681 | 10,239 |