The iron and steel industry of Japan, which started working earlier on reducing reliance on petroleum-based energy, waste heat recovery, and operational technology improvements, has established world-class energy saving production systems, making a contribution to measures against global warming. These efforts are guided by a voluntary action plan established mainly by The Japan Iron and Steel Federation. Daido Steel has improved equipment and operational methods and made technological developments in accordance with the plan of the Federation, generating a steady flow of successful results.
Heavy Investment in Energy Saving Measures
In the 13 years from 1995 to 2008, Daido Steel invested a total of 7,760 million yen in energy-saving measures (CO2 reductions).
Most of this investment was for the installation of regenerative burners (burners that recovery heat from combustion exhaust gas) and switching fuels to promote the recovery of waste heat, and provided major reductions in CO2, thereby contributing to preventing global warming.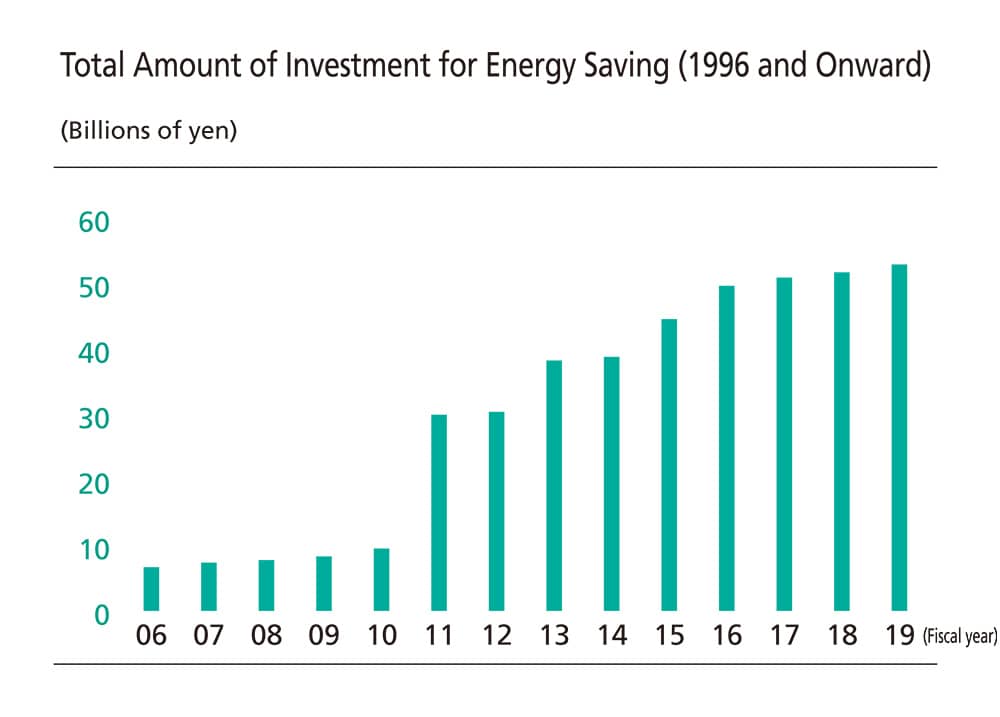 Emission Amount of Carbon Dioxide (CO2) and Efforts to Reduce Specific Fuel Consumption
Daido Steel has set a goal of reducing average emissions of CO2 by 10% (compared with actual results in fiscal 1990) over a five-year period from fiscal 2008 to fiscal 2012. In fiscal 2006, the Company launched a special project to reduce CO2 and initiated measures to strengthen the recovery of waste heat and encourage fuel switching. As a result of the sharp drop in demand from the second half of fiscal 2008, and the measures implemented through 2008, Daido Steel sharply lowered its emissions volume in fiscal 2009 by 35% compared with fiscal 1990.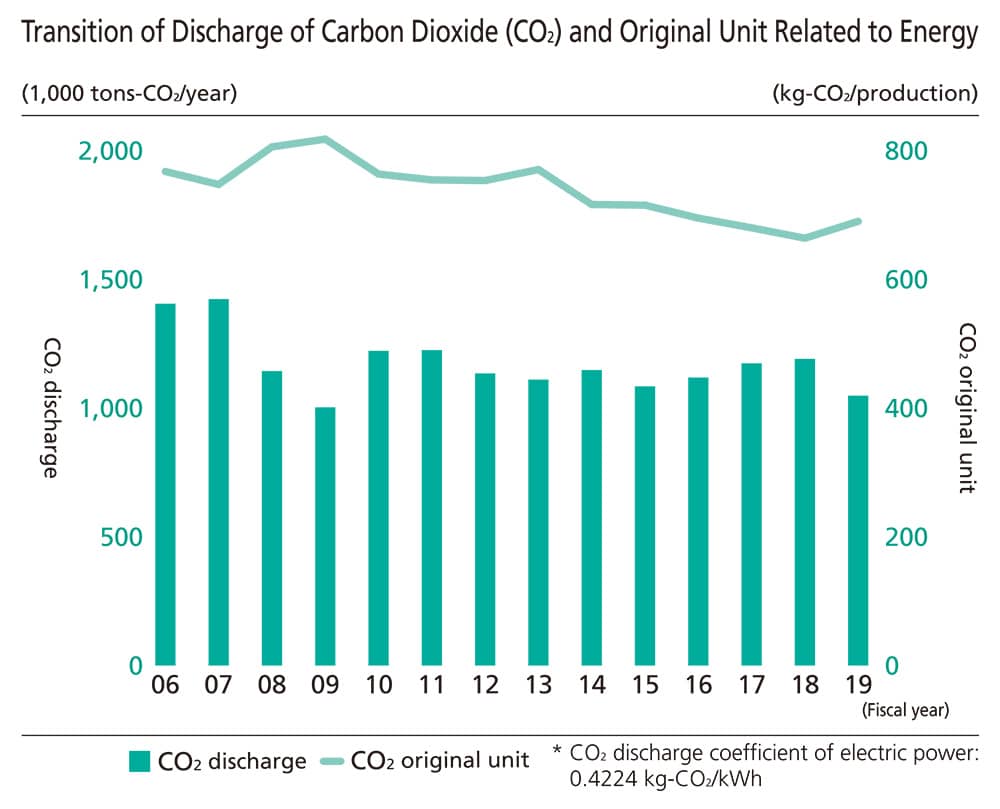 Reduction in Transportation CO2 Emissions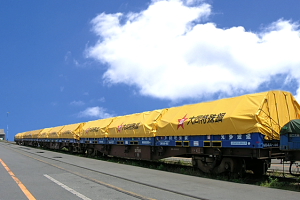 Japan's CO2 emissions volume in fiscal 2008 was 6.1% higher than the total emissions in 1990. The transportation and home and living-related sectors are thought to have been the main factors behind this increase. Because the transport of heavy loads is inseparable from heavy industry, Daido Steel focused its efforts for contributing to the environment by aggressively promoting modal shift*1 and the improvement of facilities to support this change.
*1 Replacing truck and air shipping with transportation by rail and ship. Positive results include energy-saving effects and the reduction of CO2 emissions.
Compared to 2004 levels, CO2 emissions from specific energy consumption in transportation used by Daido Steel have decreased by 2.9 percent, due mainly to the modal shift* that Daido Steel has been working on. The CO2 emissions from specific energy consumption have decreased by 78 percent in the case of truck transportation and by as much as 87 percent in the case of rail transportation, showing that the modal shift is significantly effective.
Today, 30 percent of in-house products are transported by high-efficiency ships and the distribution facilities of Daido Steel are now being modified, for instance, all-weather berths are being constructed to enable sea shipments of steel materials in all weathers. The modal shift from surface to rail has been encouraged with the performances of the full-scale modal shift from trailer to rail; steel materials (15 thousand tons/year) were transported from a plant in Nagoya district to a warehouse in Niigata-prefecture in 2003, and in 2006, from this warehouse in Niigata to Akita district (10 thousand tons/year) and to Niigata district (22 thousand tons/year.)
Daido Steel will continue to promote modal shift from truck to ship or rail transportation.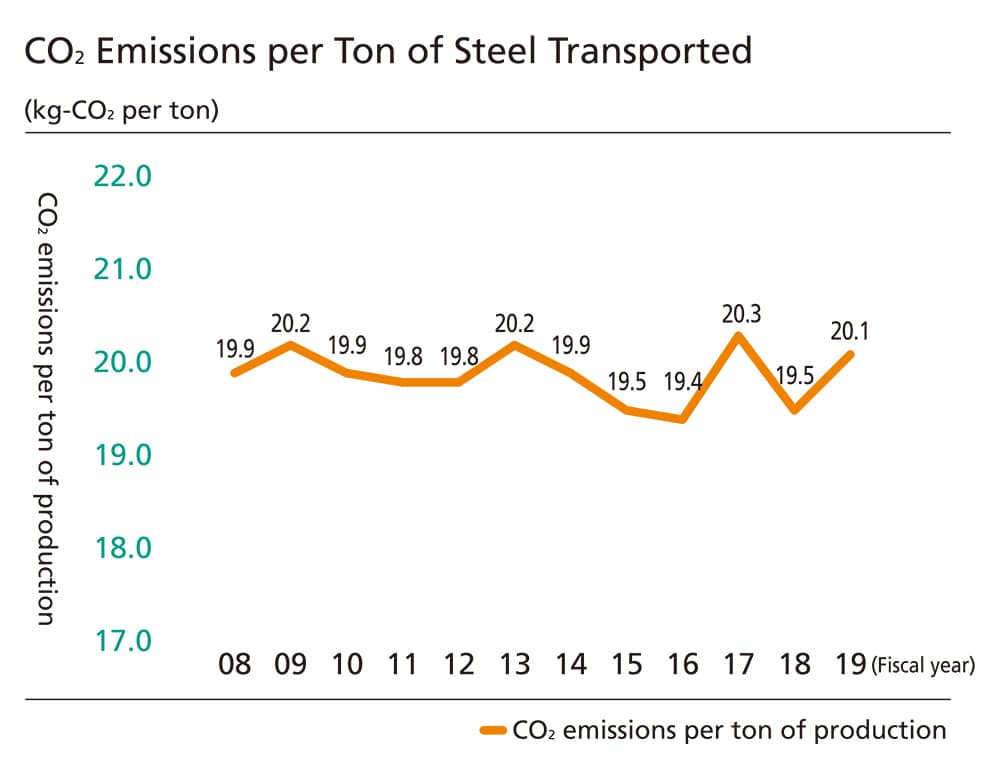 Plant efforts - Diagnosis of Combustion Facilities
At Daido Steel we operate roughly 170 combustion facilities including heating furnaces and heat treatment furnaces. To use energy at maximum efficiency at these facilities, we have developed combustion facility diagnosis activities. These enable us to identify energy waste and realize improvements by measuring data for various processes and making heat adjustments. As a result of activities by a special diagnostics team organized in August 2007, proposals to reduce carbon dioxide by 7,000 tons or more annually were presented during the period from the second half of fiscal 2007 through fiscal 2009. The diagnostics team and members of the operating divisions are jointly executing those measures among the proposals that are immediately feasible, such as air mixture adjustments. In addition, for proposals that require capital investment the Company is undertaking improvements after completing detailed studies.