Automotive Steel Research
The company is developing the steel for the practical mechanical structure centering on the co-development with automobile manufacturers for the purpose of promoting the manufacture of the high function automobile parts. The company is also developing the materials with new functions by combination of manufacturing technologies of alloy designing, heat treatment and so on.
Development Case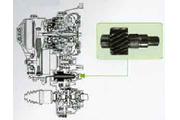 High-strength gear steel
The company is developing steel materials and method of construction which can contribute to manufacturing high function gear parts that require high durability. The steel for vacuum carburizing (DEG series) can realize about double strength against fatigue by combination with shot-ball peening technology compared with the conventional materials.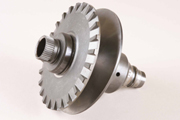 CVT pulley case-hardening steel
In recent years low-fuel consumption automobiles have been equipped with continuously variable transmissions (CVT). CVT pulleys are coupled to form a pair, and by adjusting their position the pulleys transmit the rotational speed from the engine to drive the vehicle. Daido has developed pulley materials that are capable of withstanding high pressures and resisting wear.
Microalloyed steel for high-strength connecting rods
We developed our connecting rod microalloyed steel to offer superior strength and manufacturing as well as excellent fracture splitting performance. The result is a product that contributes to reduced engine size and weight.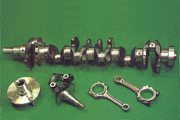 Pb free-cutting steel for high strength crank and connecting rod
A free-cutting steel that contains no lead, an environmentally harmful material. We developed this free-cutting steel to be environmentally friendly yet offer the same machinability as free-cutting steels made with lead.

Example of the application:Crankshaft, connecting rod, hub
Dvelopment Theme
Drive-train
Steel for transmission, gear
Steel for axle shaft, constant-velocity joint
Steel for differential gear
Heat treatment technology and surface modification technology of carburizing, nitriding, high-frequency quenching, shot-peening
Engine, Suspension
Steel for crankshaft, connecting rod
Spring steel for suspension spring, torsion bar
Bearing steel
Technology for improving machinability high-strength
(development free-cutting technology)