Advanced Materials Research
The company is carrying out the technical development by the alloy designing technology for strengthening the competitive power of the steel business department of the company and creating new products. The efforts cover the advanced fields of specialty steel, such as corrosion proof and heat proof materials and die related technologies.
Development Case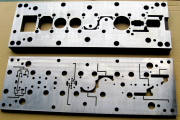 Cold work die steel DCLT®、DCMX®
We developed these matrix-type new cold die steels that excel in the manufacture of metal dies. DCLT® offers cost performance that balances lower utilization of rare metal resources with performance, while DCMX® is a high-performance product that combines a high degree of hardness and toughness plus extremely low heat treatment dimensional distortion.
These products contribute to shorter die production lead times and improved die life.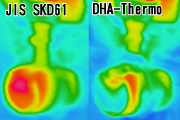 Die-cast mold steel DHA-Thermo®
The hot work tool steel developed by Daido offers high thermal conductivity that is 1.6 times the conductivity of JIS SKD61 and excellent cooling. This product is suitable for the small spool cores, core pins and die blocks used in die-casting. In contrast to JIS SKD61, the die temperature is reduced to 20-100℃. This means the product is effective for increasing the hardening rate and mitigating burning.
DHA-Thermo® supports faster cycle time, miniaturization of the die casting structure and extended die life.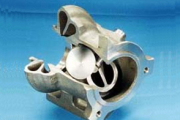 Turbocharger housing (DCR3, DCNX1)
As a high-temperature exhaust housing material for automobile turbochargers, we developed a heat-resistant cast steel capable of withstanding vehicle exhaust emission environments, where temperatures reach 850-1,100℃.
This steel is helping manufacturers develop thinner, lighter, more durable turbochargers with improved combustion efficiency.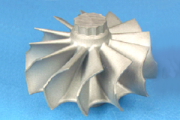 Turbine wheels (DAT-TA1, TA2)
Daido Steel developed a titanium aluminum alloy for automobile turbocharger turbine wheels that has half the relative weight of intermetallic compounds, yet offers heat-resistance rivaling nickel-base superalloys.
Thanks to its heat-resistant and lightweight properties, this product contributes to increased fuel economy and higher performance in automobiles equipped with a turbo-charger.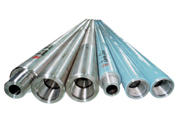 Non-magnetic drill collar (DNM140)
Daido Steel developed its "DNM140 high-strength, high-corrosion-resistant non-magnetic austenitic stainless steel" to offer 0.2% proof stress at 968MPa (140ksi) or higher and corrosion resistance that exceeds SUS304. This product is employed frequently for drill collars used in oil drilling and exploration.
Moreover, because it can also be utilized when drilling for substances such as methane hydrate and mineral floors, this product will contribute to energy and natural resource development in the future.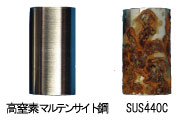 High-nitrogen stainless steel
Daido Steel developed "high hardness, high-corrosion resistance martensitic steel" and "nickel-free, high-strength, high-corrosion resistance austenitic steel" by using a pressurized induction melting furnace (a melting furnace that can melt steel under a high-pressure nitrogen atmosphere) developed in-house.
This product contributes to increased strength and greater corrosion resistance in items such as bearings, edged tools and shafts.
(Left photo: 35°C, 5% NaCl solution External appearance after spraying for 96 hours)
Development Theme
Corrosion/Heat-resistant alloy
Stainless steel
Heat-resistant alloy
Superalloy
Maraging steel
Titanium alloy
Structural intermetallics (Ti,Al)
Mold-related Technology
Cold rolled or hot worked tool steel
Plastic mold steel
Surface treatment technology
Heat treatment technology
Die machining technology