Process Technology Research
The company is carrying out the technical development by the use of refining and solidification technology, plastic working technology, measurement and control technology, and analysis and evaluation technology in order to strengthen our various production technologies.
Particularly, the company has established the cooperation system on the basis of process technology and system technology consistently from melting to rolling and product assurance.
Development Case
Pressurized melting furnaces
By using melting and casting under a pressurized nitrogen atmosphere, the quantity of nitrogen added to molten steel can be increased and steel containing super-high nitrogen content that rapidly improves the product characteristics can be manufactured.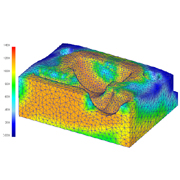 Hot forging simulations
We have realized a forging process design that enables us to predict the mechanical properties of the various components during control forging and hot forging and obtain the optimal characteristics.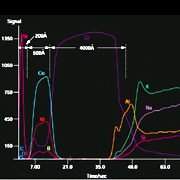 Surface analysis using GD-OES
By analyzing films that are formed through sputtering and other techniques, as well as plated and heat-treated materials and other substances, based on the depth profile from the material surface, and promptly performing evaluations and analyses of surface layers, Daido Steel is contributing to materials development.
Shape inspections and external appearance inspections
Daido uses image processing technology and 3D instrumentation technology to perform inspections of the shape and external appearance of complexly-shaped components, and works to improve the efficiency of its inspection processes.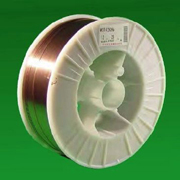 High corrosion-resistant stainless steel welding wire for automobile exhaust systems
Daido's "WSR43KNb" welding wire developed for automobile exhaust treatment systems offers superb corrosion resistance exceeding that of conventional solid wire and MCW, and ensures crack-free welding characteristics, as the result of high Nb addition.
Development Theme
Steel manufacturing, refining and solidification
Melting and casting technology of metallic material
(Ferrous alloy、Non-ferrous alloy (Ti、V、Mg・・・))
New manufacturing process
(High-nitrogen steel, atomized-powder, casting products)
Analysis technology
(Casting・solidification analysis(Presicion casting, remelting, CC), gas flow analysis)
Cutting, Plastic forming
Plastic forming technology of intractable material
(Super alloy, titanium alloy, etc.)
Texture control technology (Texture control at rolling, forging)
Numerical analysis technology of plastic forming・cutting work
(structure prediction, fracture prediction, tool life prediction)
Development evaluation technology of various plastic forming
(Spike test, taper cup test)
Development of powder molding technology
Development of high-efficiency cutting work technology
Measurement, Control, Bonding
Nondestructive testing technology
(Ultrasonic flaw detection, eddy current flaw detection)
Measurement technology (Measuring, Image processing)
Bonding technology (Robot welding, Thermal spray)
Bonding material design
(Titanium, ferritic stainless steel, various thermal spray material)
Analysis, evaluation
Various kinds of analysis and evaluation technology
(component, inclusion, and surface condition)