Ferritic Stainless Steel
Ferritic Stainless Steel of Improved Cold Workability : LAK51,LAK52
Features and Applications
| | |
| --- | --- |
| Features | Stainless steel with superior corrosion resistance and cold workability for complex shape |
| Applications | Small screw, anchor bolt, rivet, parts for automobile and home appliance |
Chemical Composition
DAIDO BRAND
Chemical Composition(mass%)
JIS
C
Ni
Cr
Mo
Special element
LAK51
0.01
-
19.0
-
Added
SUS430LX
LAK52
0.01
-
20.0
1.0
Added
-
Characteristics
LAK51
Cold workability is greatly superior to SUS304 and SUSXM7, exceeding SUS430.
Corrosion resistance is superior to SUS430.
LAK52
High corrosion resistance type of LAK51. Corrosion resistance is equivalent to SUS304.
Cold workability is equal to LAK51.
Technical Data

Salt spray test(JISZ2371)
(35℃,5%NaCl,96H)
LAK51
LAK52
SUS430
SUS304
SUSXM7
SUS303
A
A
B
A
A
B
A:No rust development B:small rust development C:big rust development
Super Free-cutting Ferritic Stainless Steel : DSR6F
Features and Applications
| | |
| --- | --- |
| Features | Stainless steel with improved machinability by adding free-cutting component |
| Applications | Precision machined parts (e.g. automobile, home appliance, office automation equipment) |
Chemical Composition
DAIDO BRAND
Chemical Composition(mass%)
JIS
C
Si
Mn
S
Cr
Mo
Special element
DSR6F
0.01
0.5
1.2
>0.15
20.0
2.0
Added
ー
Characteristics
DSR6F
Machinability is about 8 times better comparing to SUS303(Ultra hard tool life).
Corrosion resistance is equivalent to SUS303.
Cold workability is about twice better comparing to SUS303.
Machinability and Corrosion Resistance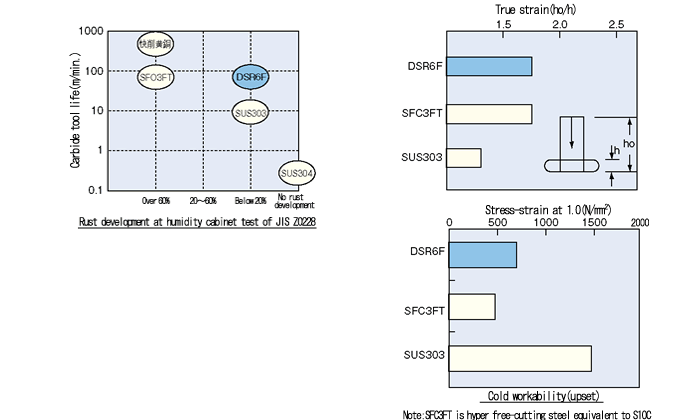 Inquiries about
Stainless Steel