High Alloy Powder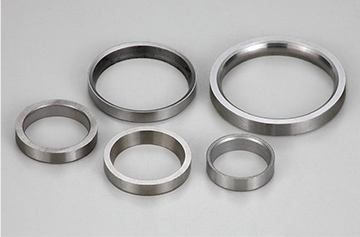 High nickel and cobalt alloy powder Excellent in heat, corrosion and abrasion resistance Applicable to sintering, MIM, HIP materials, thermal spraying and welding alloy
Features
Nickel based alloy : Heat and corrosion resistant
Cobaltbased alloy : Wear resistant
Powder shape and size are adjustable in accordance with customer's maufacturing processes and applications.
For development of wear resistance, High alloy powders are mixed with Fe-based alloy powder functioning as hard particels in the sintered metal matrix.
In response to property requirements, optimal alloy design is selectable.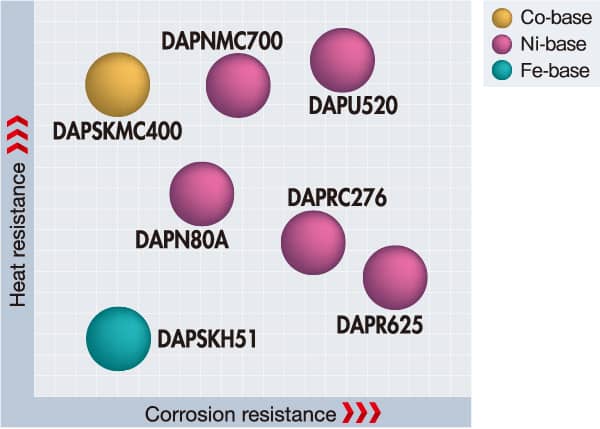 Main applications
Valve seats
Chemical engineering equipment
Jig for heating furnace
Turbine blades
Mesh belts
Turbo charger parts
Bush
Plant equipment
Main powder products
Material
Chemical Composition(mass%)
Features
C
Ni
Cr
Mo
Co
Fe
Others
DAPSKMC400
-
-
8.0
28.0
Bal.
-
Si 2.5
Heat and wear resistance
DAPNMC700
-
Bal.
15.0
32.0
-
-
Si 3.0
Heat and wear resistance
DAPRC276
-
Bal.
15.5
16.0
-
5.0
W 4.0
Corrosion resistance against oxidaizing or reducing almosphere
DAPR625
-
Bal.
21.0
9.0
-
-
Nb,Ti,Al
Strength and corrosion resistance
DAPN80A
0.10
Bal.
20.0
-
-
-
Al,Ti
Good creep and fatigue strength at elevated temperature
DAPU520
0.05
Bal.
19.0
6.0
12.0
-
W,Al,Ti,B
Strength and heat resistance in high temperature
DAPSKH51
0.85
-
4.2
5.0
-
Bal.
W,V
Wear resistance
※Different type of chemical compositions is also available
Inquiries about
Alloy Powder