Hot Stamping Die Steel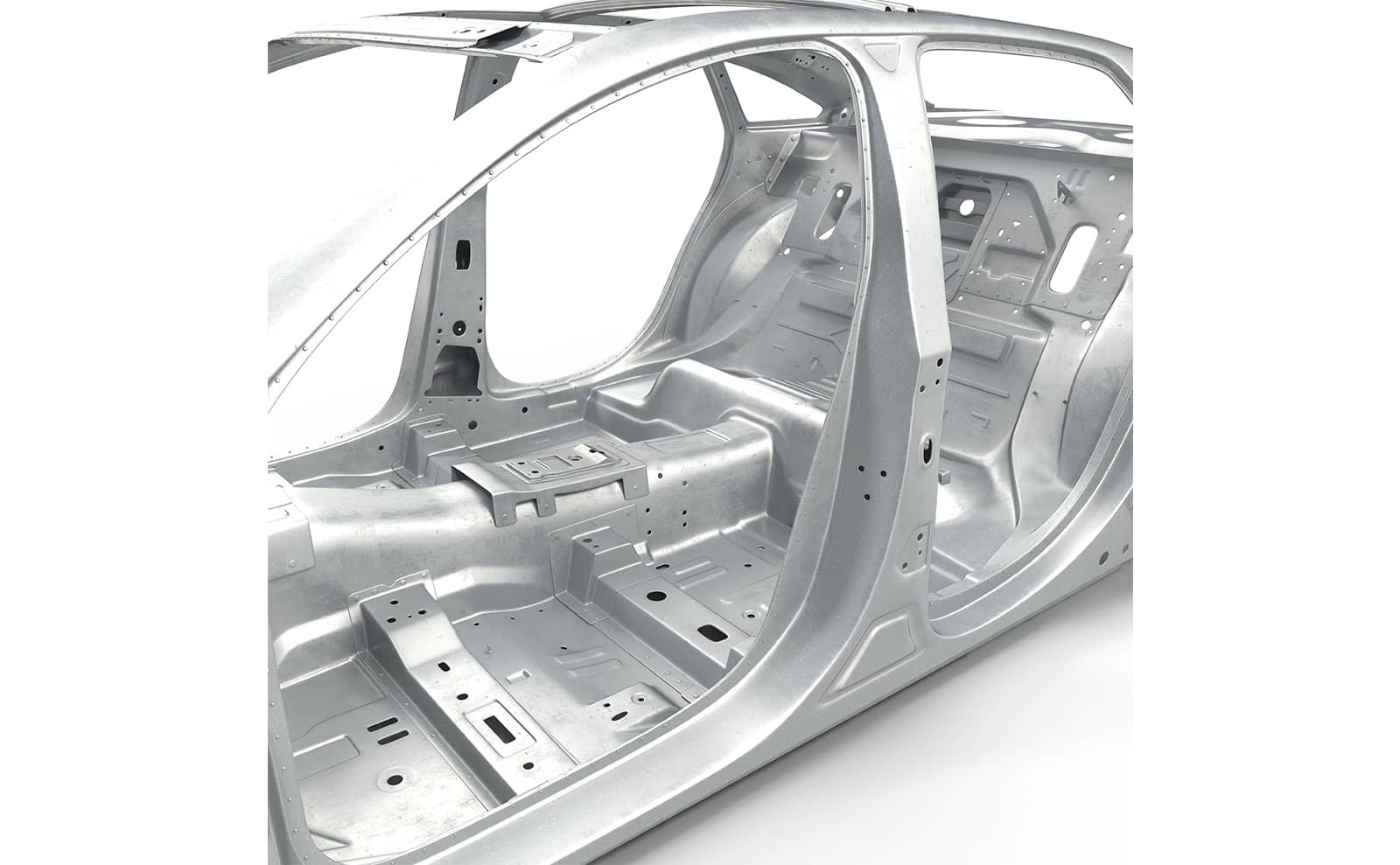 Daido Steel's tool steels lineup for hot stamping dies includes H13 and other special grades that can provide excellent high-temperature strength, softening resistance and thermal conductivity. High thermal conductive grades contribute to the improvement of the internal cooling efficiency.
Our products contribute to the prevention of wear, plating adhesion and other issues that may happen in hot stamping where forming and cooling happen at the same time.
Conceptual diagram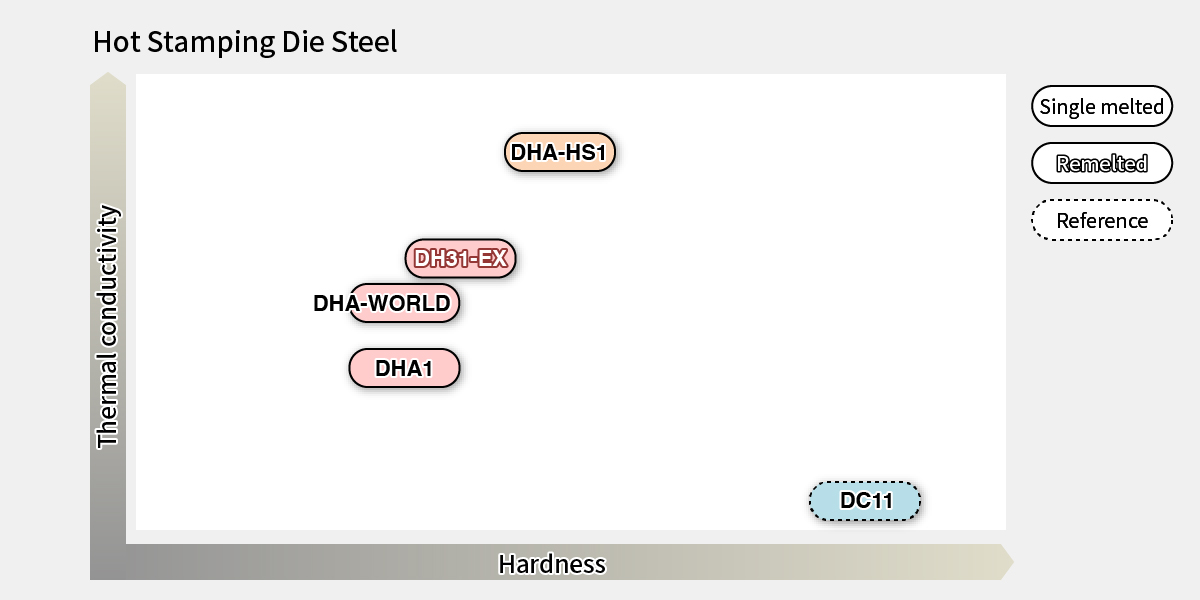 Products list
Grade
Brand name
Equivalent standard
Characteristics
Detailed information
JIS
AISI
WNr.
Special page
Brochure
Technical data
Type H13 &
Modified
(5Cr)
Single
melted
DHA1
SKD61
H13
eq.
1.2344
eq.
・General-purpose hot work die
steel
DHA-WORLD
SKD61
mod.
H13
mod.
1.2344
mod.
・High hardenability & toughness

Type 2367
modified
(5Cr)
Remelted
DH31-EX
-
-
1.2367
mod.
・High hardenability & toughness
・High strength at elevated temp.

Hot
Stamping
Die Steel
DHA-HS1
-
-
-
・High thermal conductivity &
High softening resistance
・Dedicated steel for hot stamping
dies
For the latest physical property data, please see "Physical Properties".
Values listed in the brochure may differ.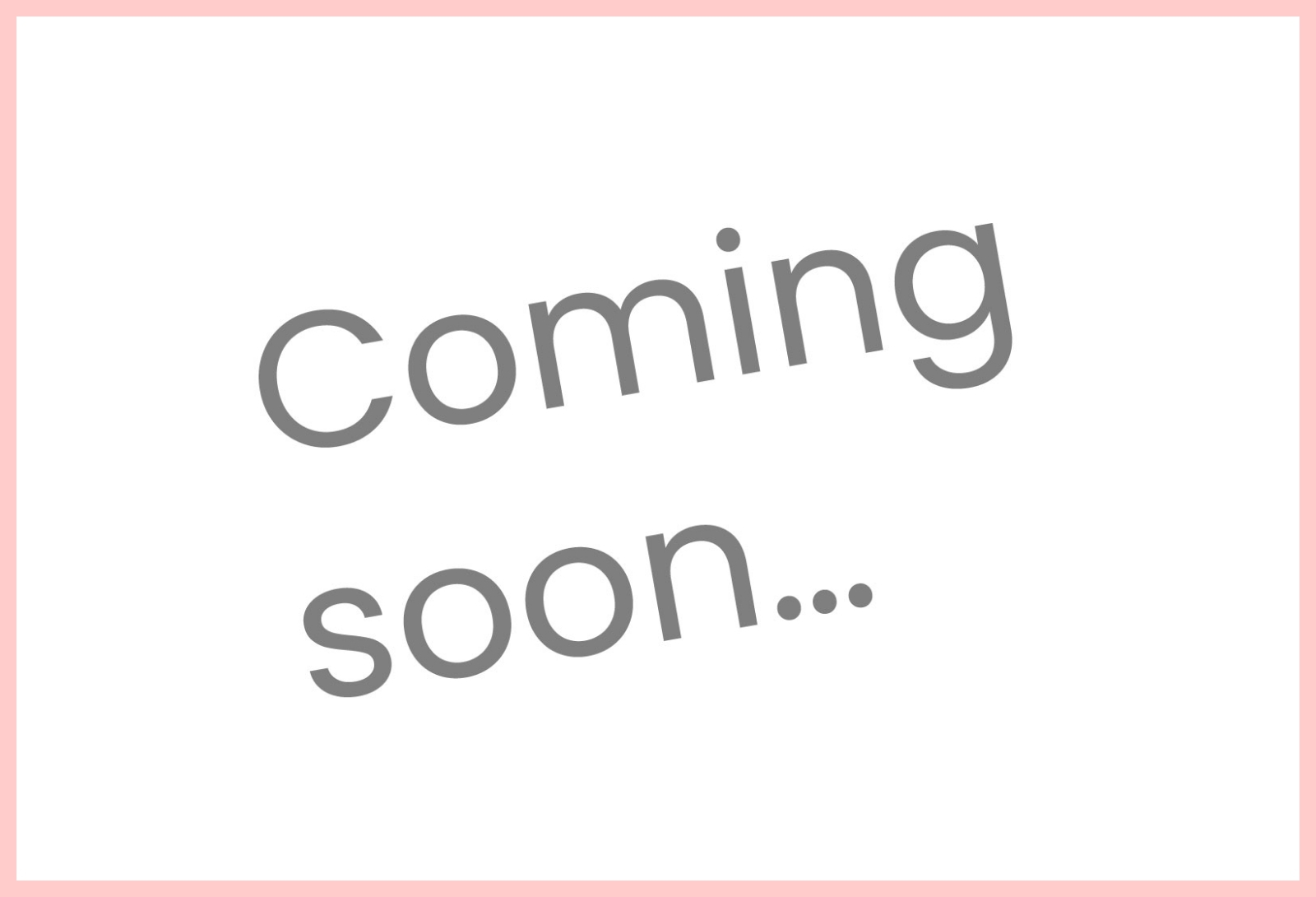 Technical Data
No.
Title
Publication / Source
Volume & page
Read the document
S01e
Document with comments "DHA-WORLD" (No. SD2002)
-
-

Open PDF file

S02e
Document with comments "DH31-EX"
(No. SD2001)
-
-

Open PDF file

E01
ホットスタンピング向け金型用鋼
「DHA-HS1」 (No. SD2107)
「型技術」(日刊工業新聞社)
2020年 35巻 10号 p.38-41

Open PDF file

(E01e)
Hot Stamping Die Steel "DHA-HS1"
(No. SD2101)
Source: KATA-GIJYUTSU
(Die and Mould Technology)
2020, Vol.35, No.10, p.38-41

Open PDF file

E02
実機試験によるホットスタンピング金型評価技術
大同特殊鋼技報「電気製鋼」
2020年 91巻 1号 p.43-47

Go to DENKI-SEIKO page

(E02e)
Die Material Evaluation Technology by
Actual Hot Stamping Equipment
(No. SD2109)
Source: DENKI-SEIKO
(Electric Furnace Steel)
2020, Vol.91, No.1, p.43-47

Open PDF file

E03e
Newly Developed High Thermal
Conductive Die Steel with Superior
Performance for Hot Stamping
(No.SD2201)
Source: Proceeding of
CHS

2

-2022
2022, p.679-686

Open PDF file
Inquiries about
Tool Steel