Cold Work Tool Steel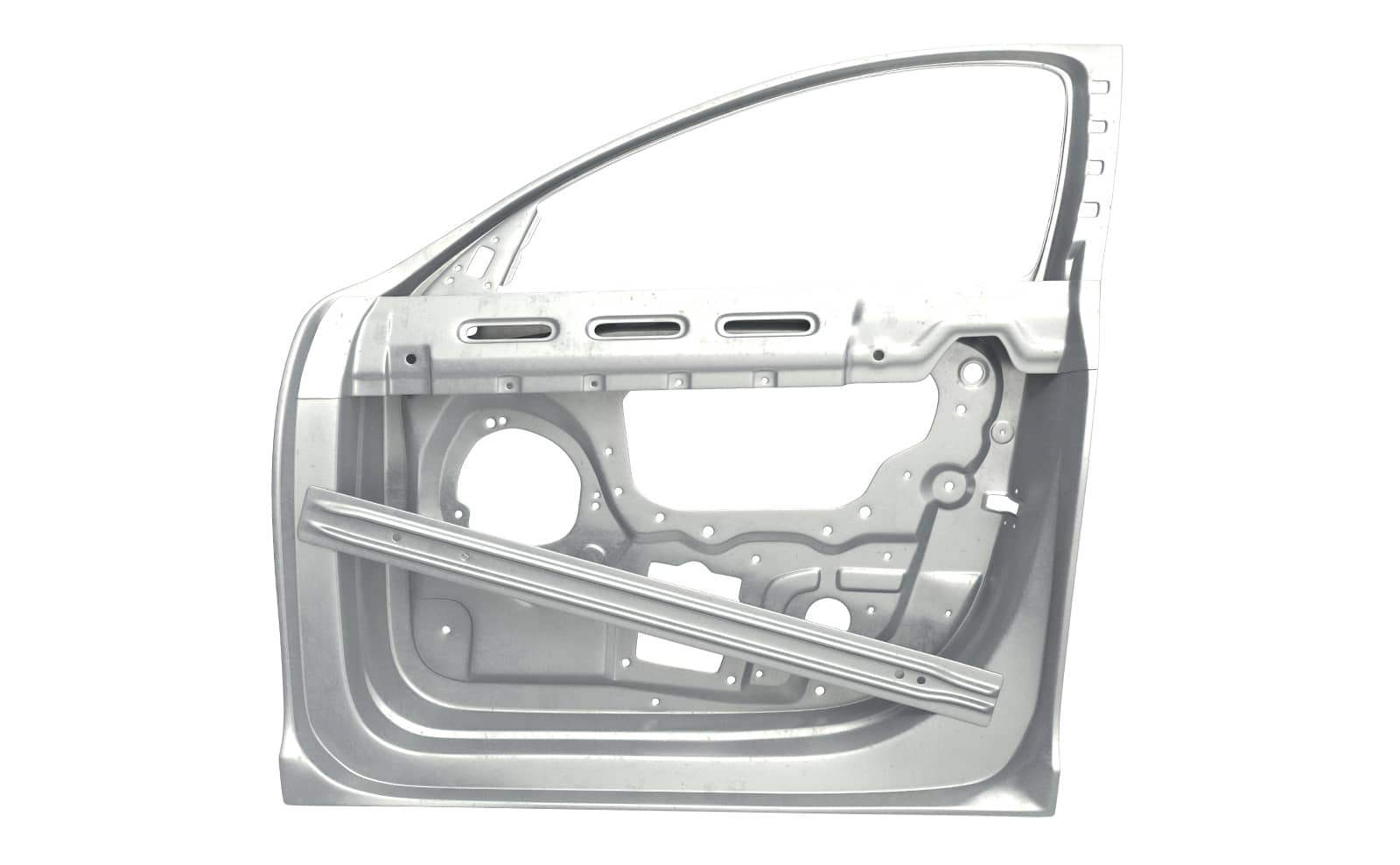 Daido Steel's tool steels lineup for cold stamping and forging includes D2, matrix-high-speed steel, and original steel grades with high hardness and toughness.
Our products contribute to the prevention of wear, chipping and other issues that may happen in cold stamping for high tensile strength steel sheets and thick steel sheets. It is also applicable to cold working tools such as rolls and blades.
Conceptual diagram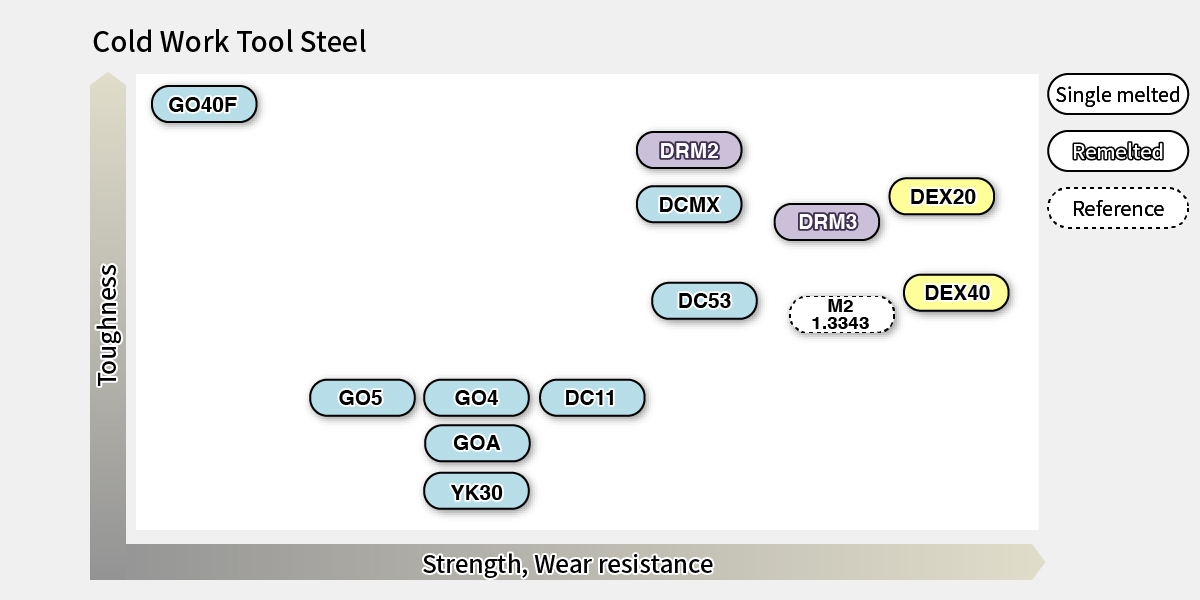 Products list
Grade
Brand name
Equivalent standard
Characteristics
Detailed information
JIS
AISI
WNr.
Special page
Brochure
Technical data
Type D2 &
Original
Cold
Work Die
Steel
DC11
SKD11
D2 eq.
1.2379
eq.
・General-purpose cold work die
steel
DC53
-
-
-
・8Cr-2Mo type
・High hardness & toughness


DCMX
-
-
-
・Matrix type cold work die steel
・High toughness, easy machining
& small dimensional change
Alloy tool
steel
YK30
SKS93
W5
mod.
-
・Oil hardening steel
GOA
SKS3
mod.
O1
mod.
1.2510
mod.
・Oil hardening steel
GO4
-
-
-
・Air hardening Steel
GO5
-
-
-
・Flame hardening Steel
GO40F
-
-
-
・40HRC Pre-hardened steel
・Easy machining
High Speed
Tool Steel
Matrix Type
DRM2
-
-
-
・High hardness & toughness
・Maximum hardness 62HRC
DRM3
-
-
-
・High hardenability
・Maximum hardness 66HRC
Powder
Metallurgy
High Speed
Tool Steel
DEX20
-
-
-
・High toughness
DEX40
-
-
-
・High toughness
・High strength at elevated temp.
Technical Data
No.
Title
Publication / Source
Volume & page
Read the document
S03e
The application of DCMX (No. SD1901)
-
-

Open PDF file

G01
1C-1Si-8Cr-2Mo系冷間工具鋼の高温焼戻し硬さと2次硬化挙動について
大同特殊鋼技報「電気製鋼」
1989年 60巻 4号 p.311-323

Go to J-STAGE site

G02
1C-1Si-8Cr-2Mo鋼の靱性に及ぼす残留オーステナイトの影響
大同特殊鋼技報「電気製鋼」
1993年 64巻 3号 p.140-151

Go to J-STAGE site

G03
1C-8Cr系高温焼戻し冷間工具鋼の経時寸法変化におよぼす残留オーステナイト安定化の影響
大同特殊鋼技報「電気製鋼」
2000年 71巻 2号 p.141-148

Go to J-STAGE site

G04
冷間工具鋼の疲労強度に及ぼす一次炭化物分布の影響
大同特殊鋼技報「電気製鋼」
2005年 76巻 4号 p.249-257

Go to J-STAGE site

G05
冷間ダイス鋼の熱処理変寸の異方性に及ぼす晶出炭化物の影響
大同特殊鋼技報「電気製鋼」
2007年 78巻 4号 p.289-290

Go to J-STAGE site

G06
熱処理寸法の制御が容易なマトリックス冷間ダイス鋼 DCMX
大同特殊鋼技報「電気製鋼」
2010年 81巻 1号 p.53-60

Go to DENKI-SEIKO page

(G06e)
A New Type Cold Work Die Steel with
Isotropy of Dimensional Change
"DCMX" (No. SD2006)
Source: DENKI-SEIKO
(Electric Furnace Steel)
2010, Vol.81, No.1, p.53-60

Open PDF file

L01
高硬度・高靭性マトリックスハイスDRM鋼の開発
大同特殊鋼技報「電気製鋼」
2005年 76巻 4号 p.279-286

Go to J-STAGE site

(L01e)
The Development of High Hardness and
Toughness Matrix Type High Speed Tool
Steels "DRM" (No. SD2108)
Source: DENKI-SEIKO
(Electric Furnace Steel)
2005, Vol.76, No.4, p.279-286

Open PDF file

L02
金型用マトリックスハイスDRM鋼の実用事例
大同特殊鋼技報「電気製鋼」
2007年 78巻 4号 p.353-360

Go to J-STAGE site
Related Documents
No.
Title
Publication / Source
Volume & page
Read the document
H01
高張力鋼板の冷間成形での工具損傷における工具鋼種類の影響
大同特殊鋼技報「電気製鋼」
2017年 88巻 2号 p.95-100

Go to DENKI-SEIKO page

H02
高張力鋼板成形用冷間金型における表面処理品の寿命評価
大同特殊鋼技報「電気製鋼」
2014年 85巻 1号 p.39-46

Go to DENKI-SEIKO page

(H02e)
Life Evaluation of Surface Treatments of
Mold in Cold Working of High Strength
Steel (No. SD2003)
Source: DENKI-SEIKO
(Electric Furnace Steel)
2014, Vol.85, No.1, p.39-46

Open PDF file

H03
パンチコーティングが及ぼす穴抜き切り口性状への影響
大同特殊鋼技報「電気製鋼」
2014年 85巻 1号 p.47-51

Go to DENKI-SEIKO page

(H03e)
Effect of Punch Coating on Pierced Surface
Properties (No. SD2004)
Source: DENKI-SEIKO
(Electric Furnace Steel)
2014, Vol.85, No.1, p.47-51

Open PDF file
Inquiries about
Tool Steel