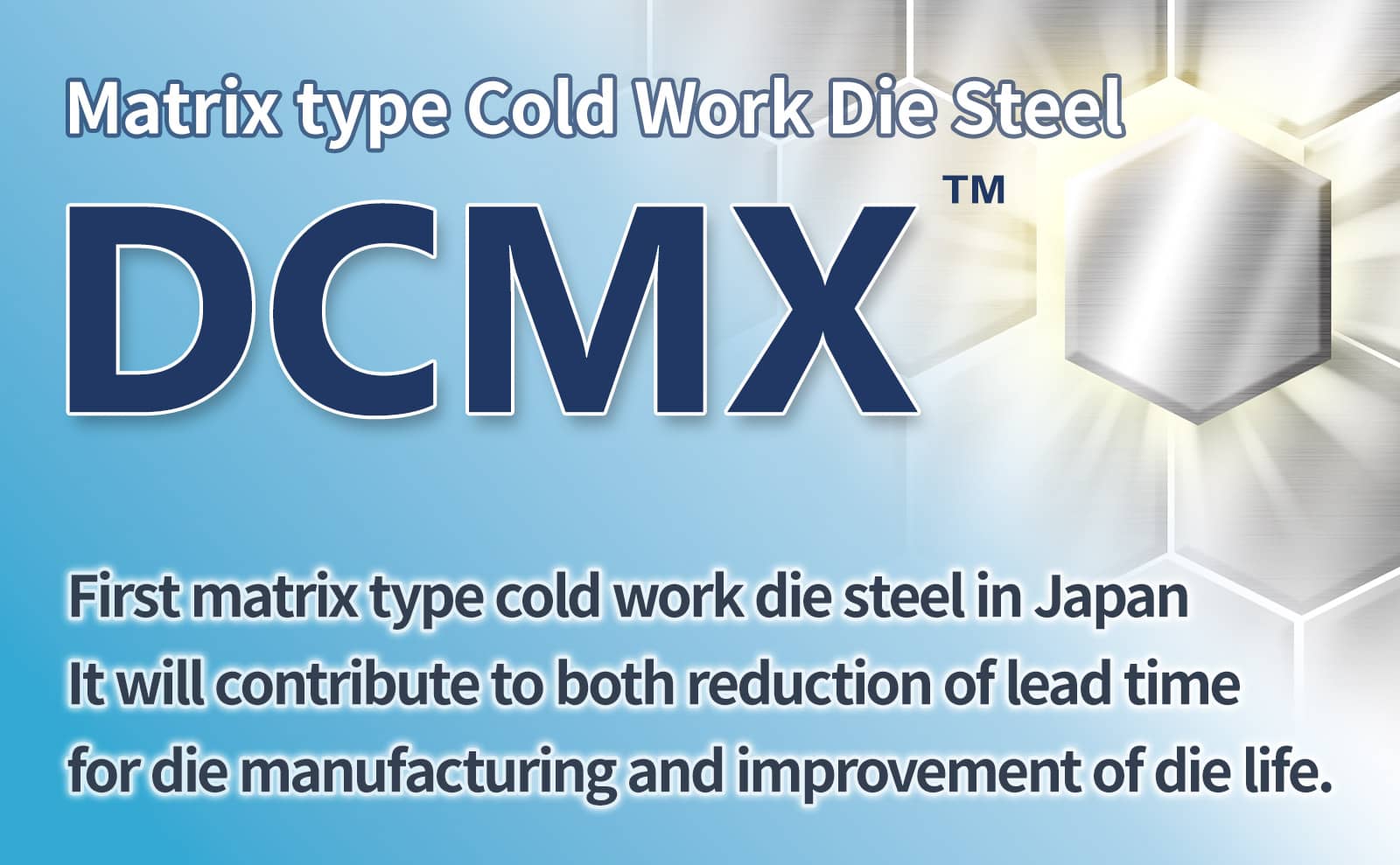 DCMX
DCMX is the first matrix type cold work die steel in Japan, which was marketed in October 2008. Excellent isotropy has been achieved by reducing coarse carbides to the extreme limit. Easy dimension adjustment during heat treatment contributes to shortening the lead time for making dies for cold pressing and cold forging.In addition, high toughness is expected to improve die life. Furthermore, it has high hardness and excellent machinability, that is it has ease of making dies and high performance at the same time.
Background
While the demand for shorter delivery times and lower costs is increasing for dies for cold pressing and cold forging, the load on dies is increasing. Therefore materials that have good die manufacturability and high performance are desired. We have developed DCMX, a new cold work die steel with a matrix-type microstructure, by making full use of the carbide control technology developed in the Matrix Type High Speed Steel DRM series, which was launched in the autumn of 2004.
What is a matrix-type metal structure?
The structure that excludes "coarse primary carbides" from the tool steel structure is called the "matrix (base)". "Coarse primary carbides" are useful substances that prevent wear in cutting tools, but they tend to be the starting point for cracking in dies and should be reduced.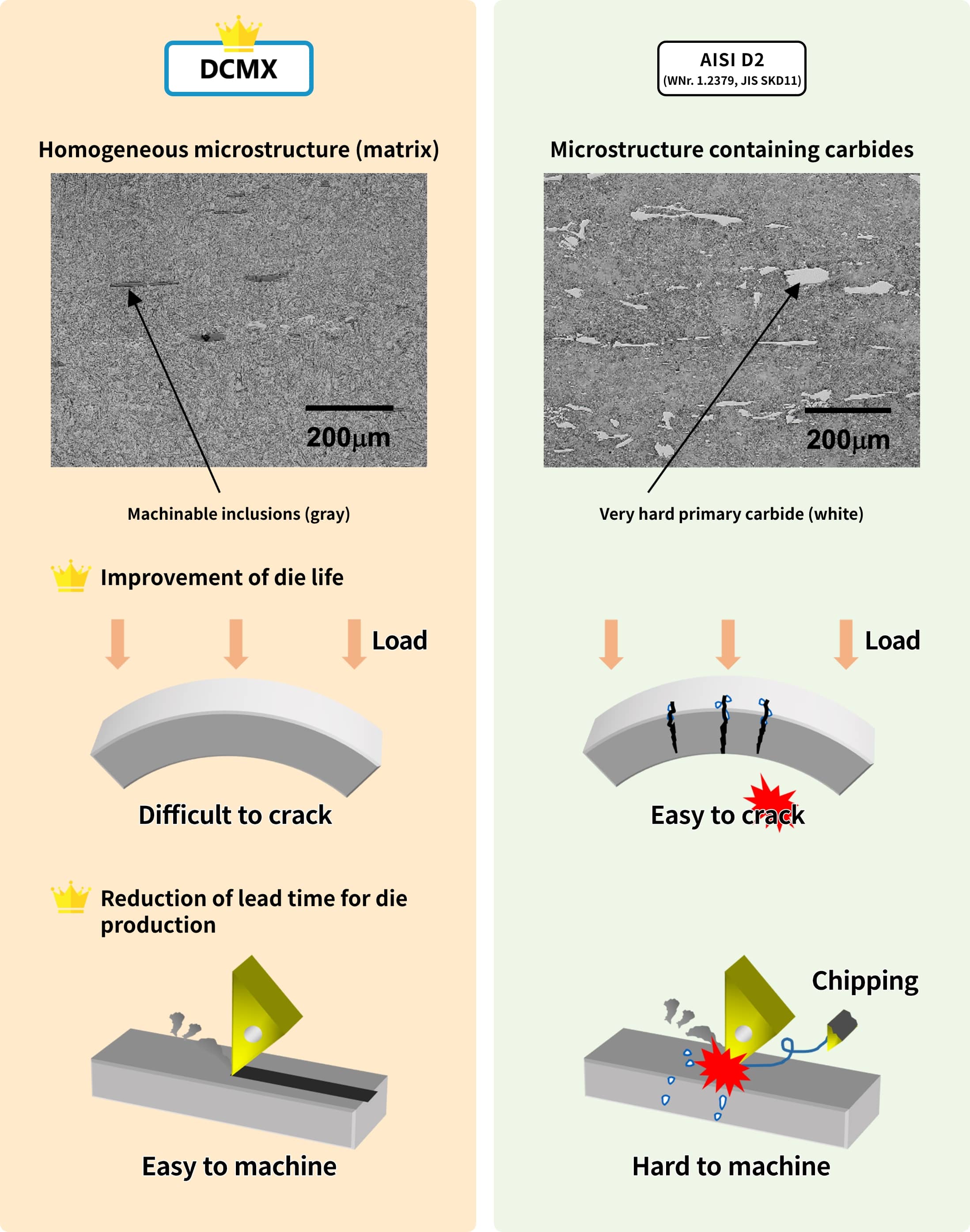 Brand name
Features
"Matrix Type Cold Work Die Steel" contributes to easier die making and longer life.
High hardness(Wear resistance)
The highest hardness of 62HRC can be obtained in the high temperature tempering at about 500℃ or higher. Surface treatment also can be applied.
Tempered hardness
Dimensions: 15×15×15mm
Quenching: 1030℃×1h - Air cooling
High toughness(Crack resistance, Chipping resistance)
Improvement of impact value by matrixing suppresses occurrence of cracking and chipping at the initial stage of die use.
Toughness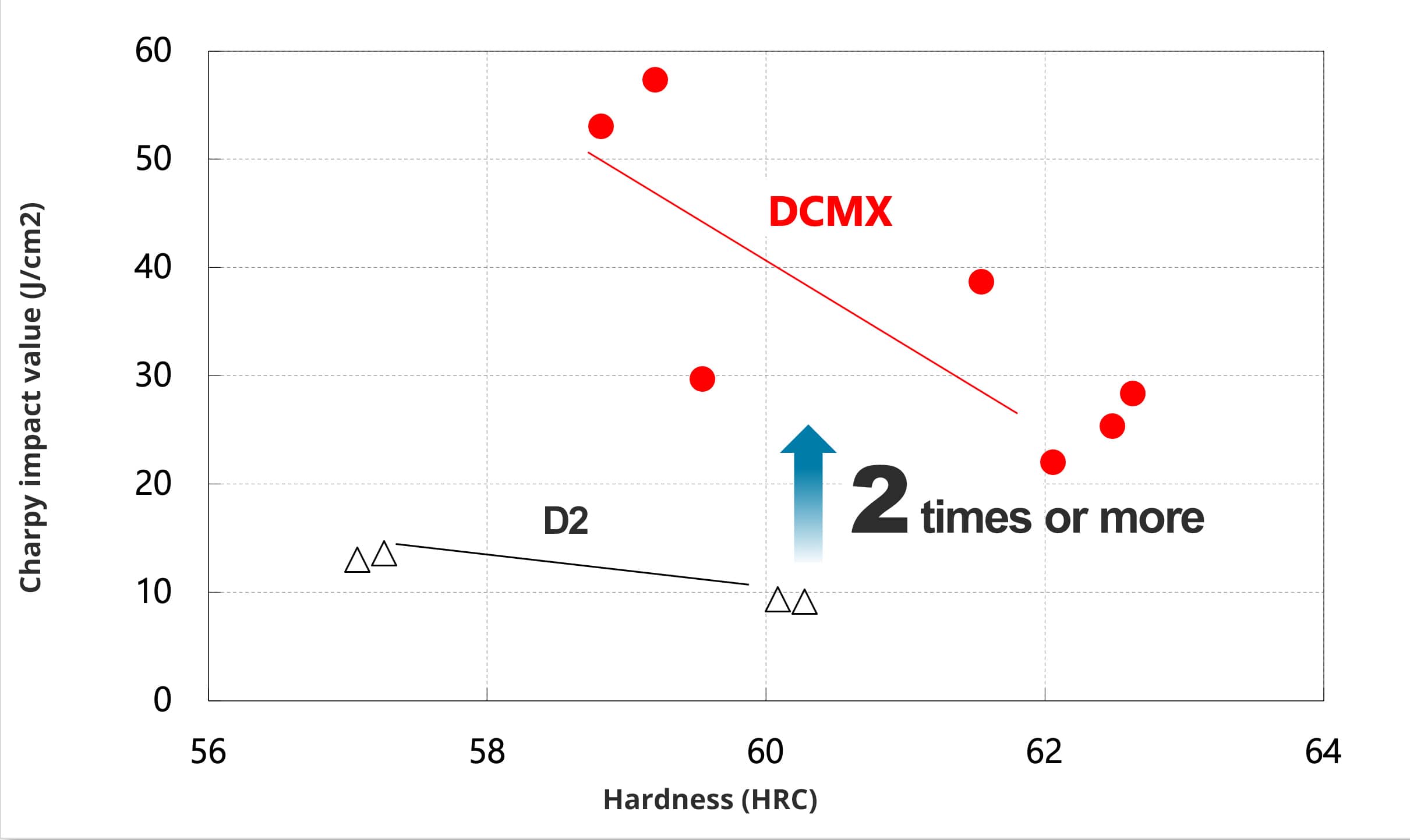 Specimen: 10R Notch, L-direction
Quenching: 1030℃×1h - Air cooling, High temp.
Excellent isotropy(Reduction of dimensional correction man-hours)
The dimensional change after heat treatment is isotropic, and the amount of change is minimized in the tempering process at about 500°C, which gives the highest hardness. Therefore, in large cold press dies for forming automotive parts, reduction of machining time for dimension correction when combining blocks and omission of correction process can be expected.
Dimensional change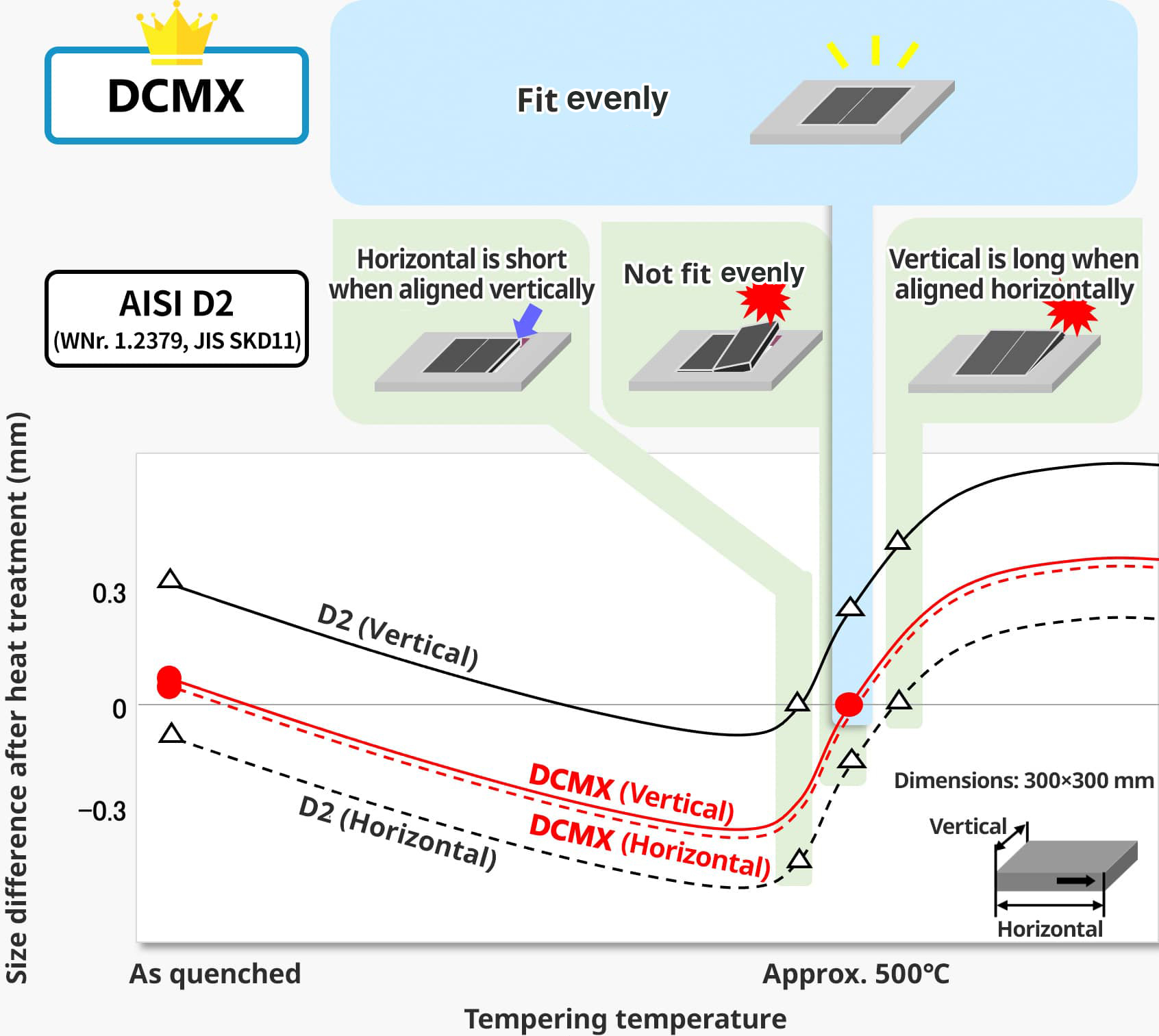 Excellent machinability(Reduction of die production lead time)
Matrixing and machinable inclusions (MnS) provide excellent machinability, which contributes to the ease of making dies.
Machinability(As annealed)
Endmilling
Tool: VP15TF (Mitsubishi Materials)
φ32, Single tooth, Down Cut 
Depth of cut: 1×4 mm 
Speed: 150 m/min 
Feed: 0.15 mm/rev 
Coolant: Air blow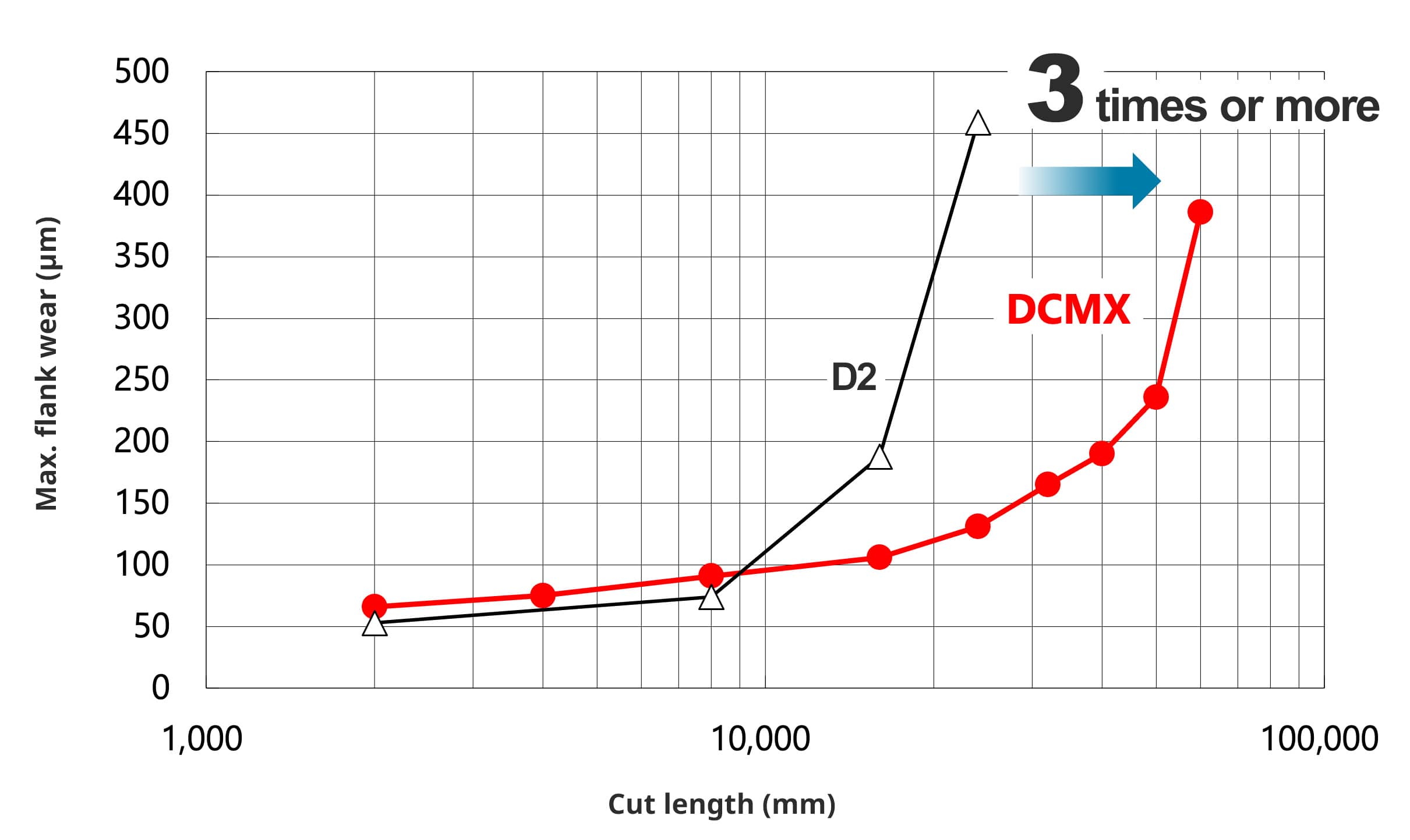 Drilling
Tool: SKH51 (NACHI) φ5, No-coated Depth of hole: 20 mm (Not-through)
Feed: 0.15 mm/rev Cutting fluid: None (dry)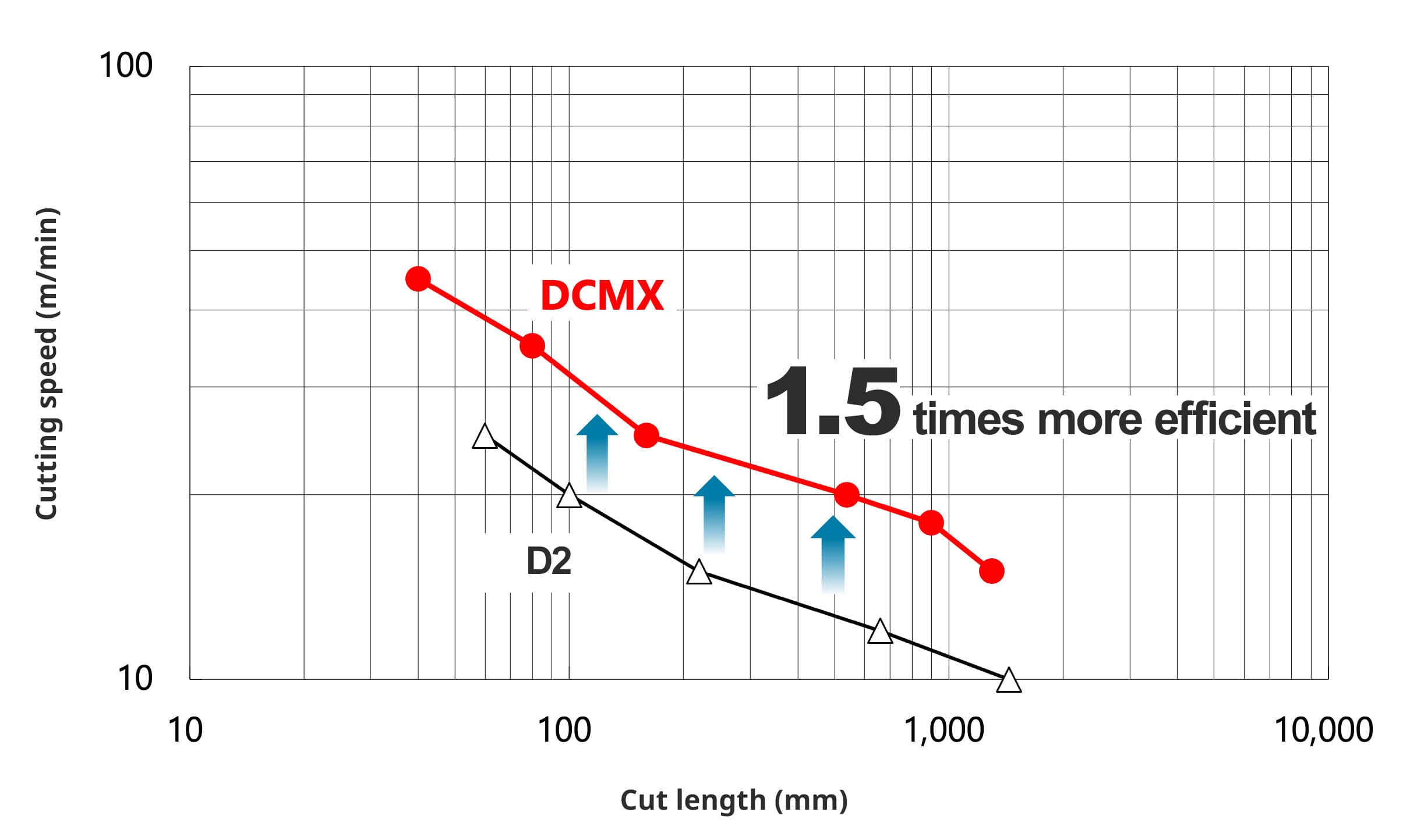 We will send it directly to the person in charge of the product.
We will contact you after confirming the contents.
Document Disclaimer
The product characteristics included in this website are the representative values based on the result of our measurements, and do not guarantee the performance in use of the products. Please contact our department in charge for the latest information as the information of this website may be updated as needed without advance notice. Copyright©2021 Daido Steel Co., Ltd. All rights reserved.