DHA-HS1
DHA-HS1 is die steel suitable for hot stamping, in which steel sheets heated to high temperatures are press-formed. Due to its high thermal conductivity, the cooling time of products is reduced, and thus the productivity is increased. Moreover, its high softening resistance extends die life.Therefore, DHA-HS1 helps cut costs of hot-stamped products.
Background
Amid growing environmental concerns, automobile manufactures are rapidly shifting to lightweight auto parts with the aim of improving fuel economy. Under the circumstances, automobile parts are being increasingly produced by hot stamping, using ultra-high tensile strength steel with a tensile strength of over 1 GPa. In response to this growing demand, Daido Steel has developed hot stamping die steel with high thermal conductivity, which can efficiently cool hot steel sheets.
Hot stamping method
In conventional press forming methods, steel sheets are formed at room temperature. However, in the hot stamping method, steel sheets heated to high temperatures are press-formed in dies and are quenched rapidly while being formed, which increases their strength.

Brand name

Features
DHA-HS1 is "Hot stamping die steel", which offers high thermal conductivity as well as excellent abrasion resistance at high temperatures. It contributes to increasing productivity and improving die life.
※Practical hardness
High thermal conductivity High cooling efficiency
With high thermal conductivity of approx.36(W/m·K) at room temperature, DHA-HS1 helps reduce cooling time of dies and steel sheets.
Thermal conductivity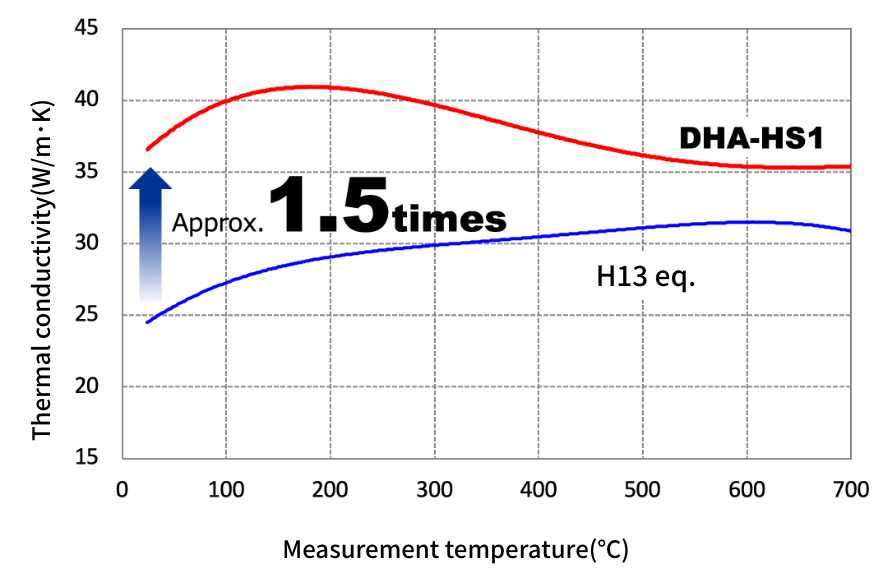 Dimensions:Φ10 × 2mm
Measurement method:Laser flash method
Quenching:1030℃, Gas cooling (6bar)
Hardness:

DHA-HS1 : 54HRC
H13 eq. : 50HRC
Test results by an actual hot stamping equipment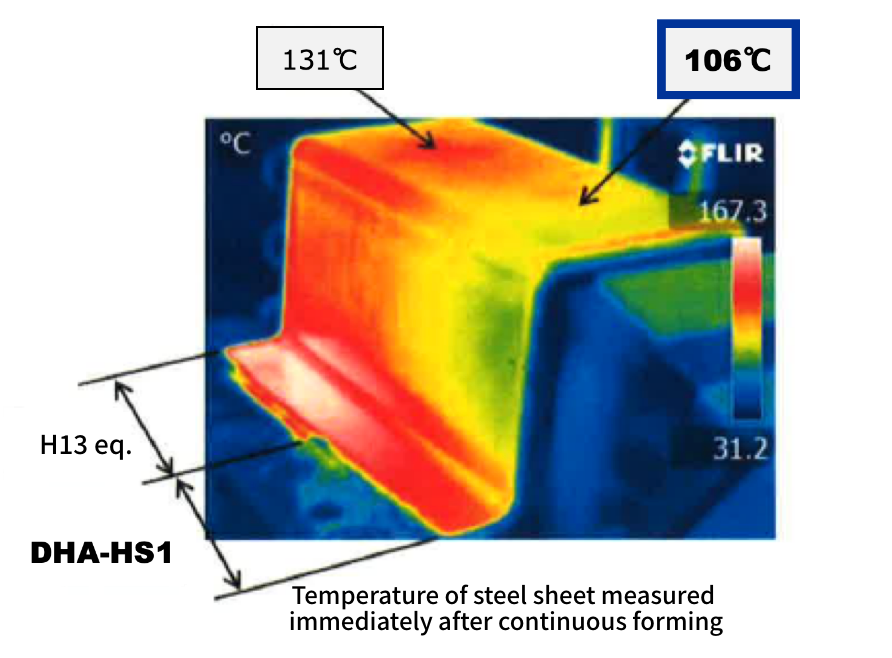 [Test method]
The temperature of two types of die steel sheet aligned
together was measured immediately after forming
[Test conditions]
Forming cycle:3.0 spm
Holding time at the bottom dead center:6.0 sec.
Temperature of steel sheet
when forming process started:approx. 850 ℃
Cooling water temperature:approx. 18 ℃
Water line position:approx. 10 mm from the die surface
High hardness Stable hardenability
Practical hardness of up to 54 HRC is obtained at a wide range of tempering temperatures. Surface treatment also can be applied.
Quenching and tempering hardness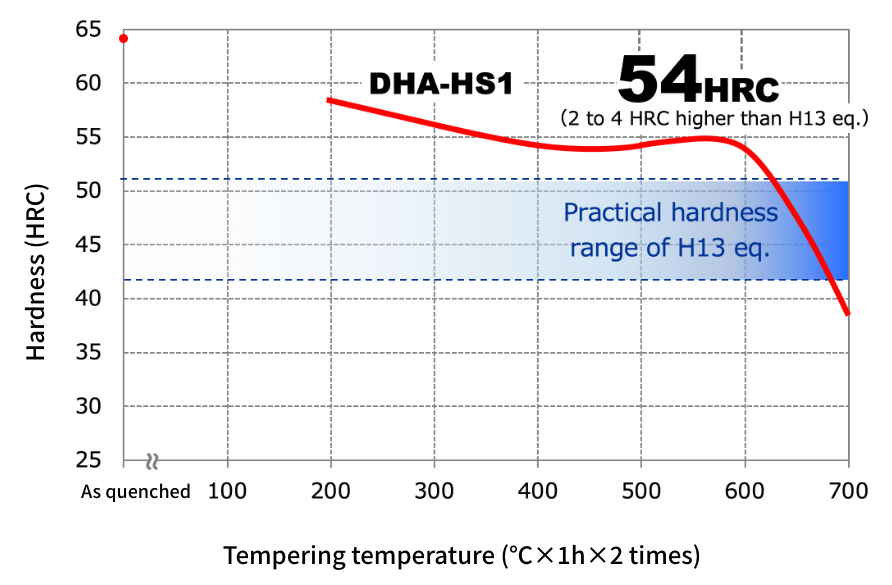 Dimensions:10×15×20 mm
Quenching:1030 ℃, Gas cooling (6bar)
Cross-sectional hardness distribution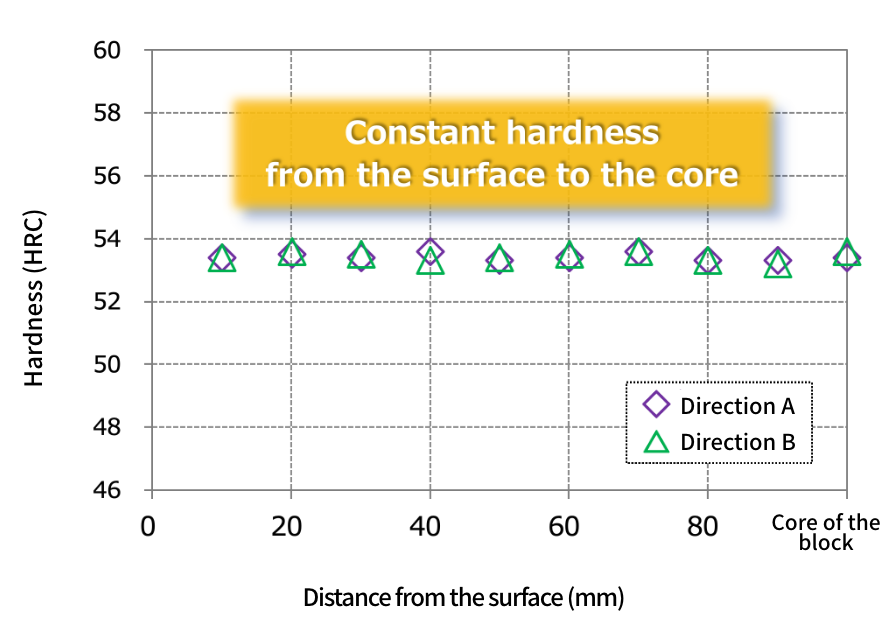 DHA-HS1 model (Approx. 130 kg)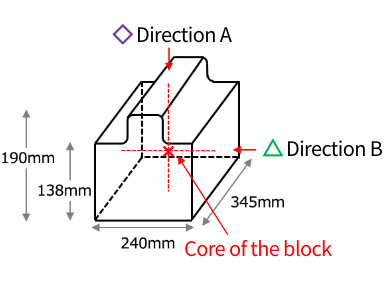 Quenching:1030 ℃, Gas cooling (6bar)
Tempering:560 ℃ × 1h × 2 times
High softening resistance Excellent heat resistance
DHA-HS1 retains high hardness at elevated temperatures when in contact with hot steel sheets. Additionally, die life is increased because of its high heat resistance.
Softening resistance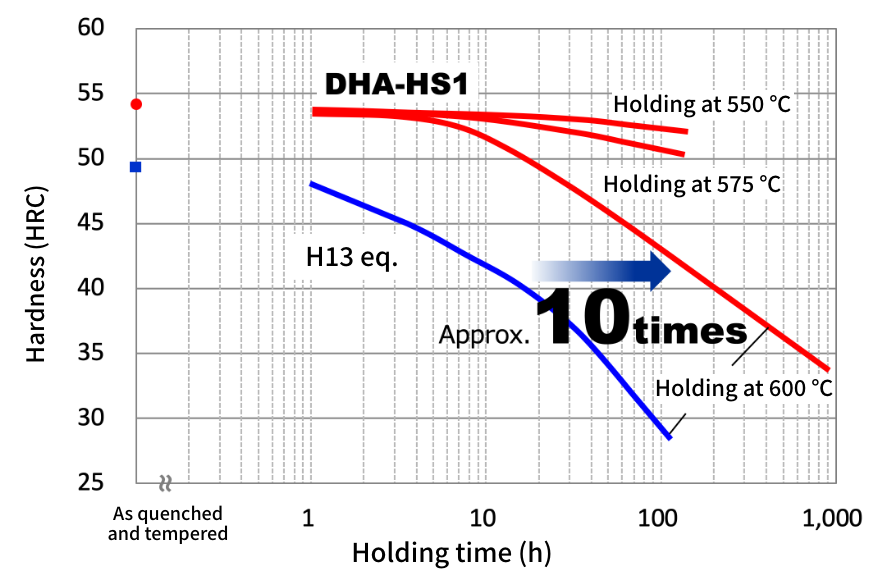 Dimensions:10×15×20 mm
Quenching:1030 ℃, Gas cooling (6bar)
We will send it directly to the person in charge of the product.
We will contact you after confirming the contents.
Document Disclaimer
The product characteristics included in this website are the representative values based on the result of our measurements, and do not guarantee the performance in use of the products. Please contact our department in charge for the latest information as the information of this website may be updated as needed without advance notice.
Copyright©2019 Daido Steel Co., Ltd. All rights reserved.