Hot Work Tool Steel (Die-Casting Die)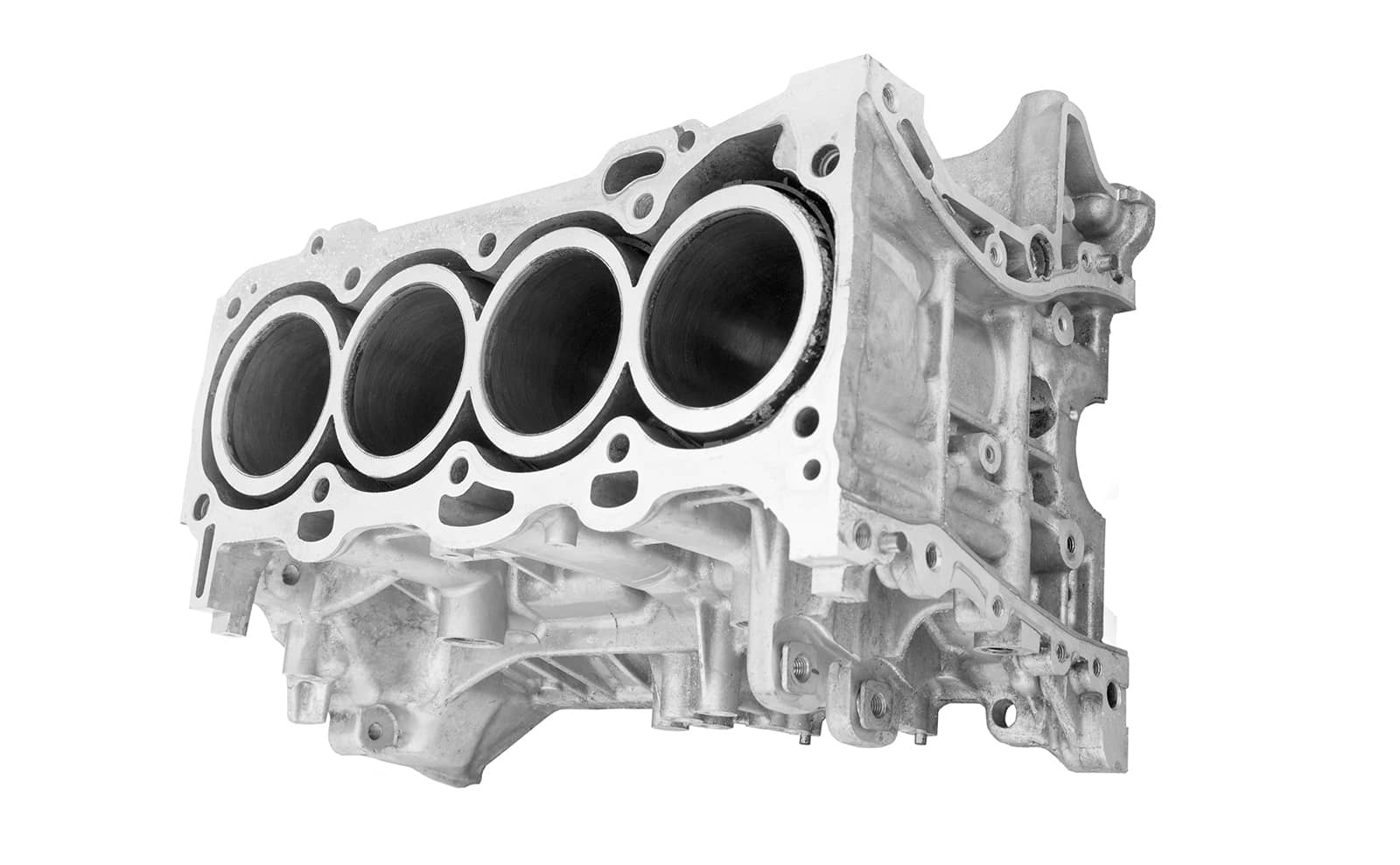 Daido Steel's tool steels lineup for die casting includes H13, matrix-high-speed steel, and original steel grades with excellent thermal conductivity and hardenability for large products.
Our products contribute to the prevention of heat checking, soldering, erosion and other issues that may happen in Al, Zn and Mg die-casting. Surface treatment such as nitriding or PVD coating is also possible.
Conceptual diagram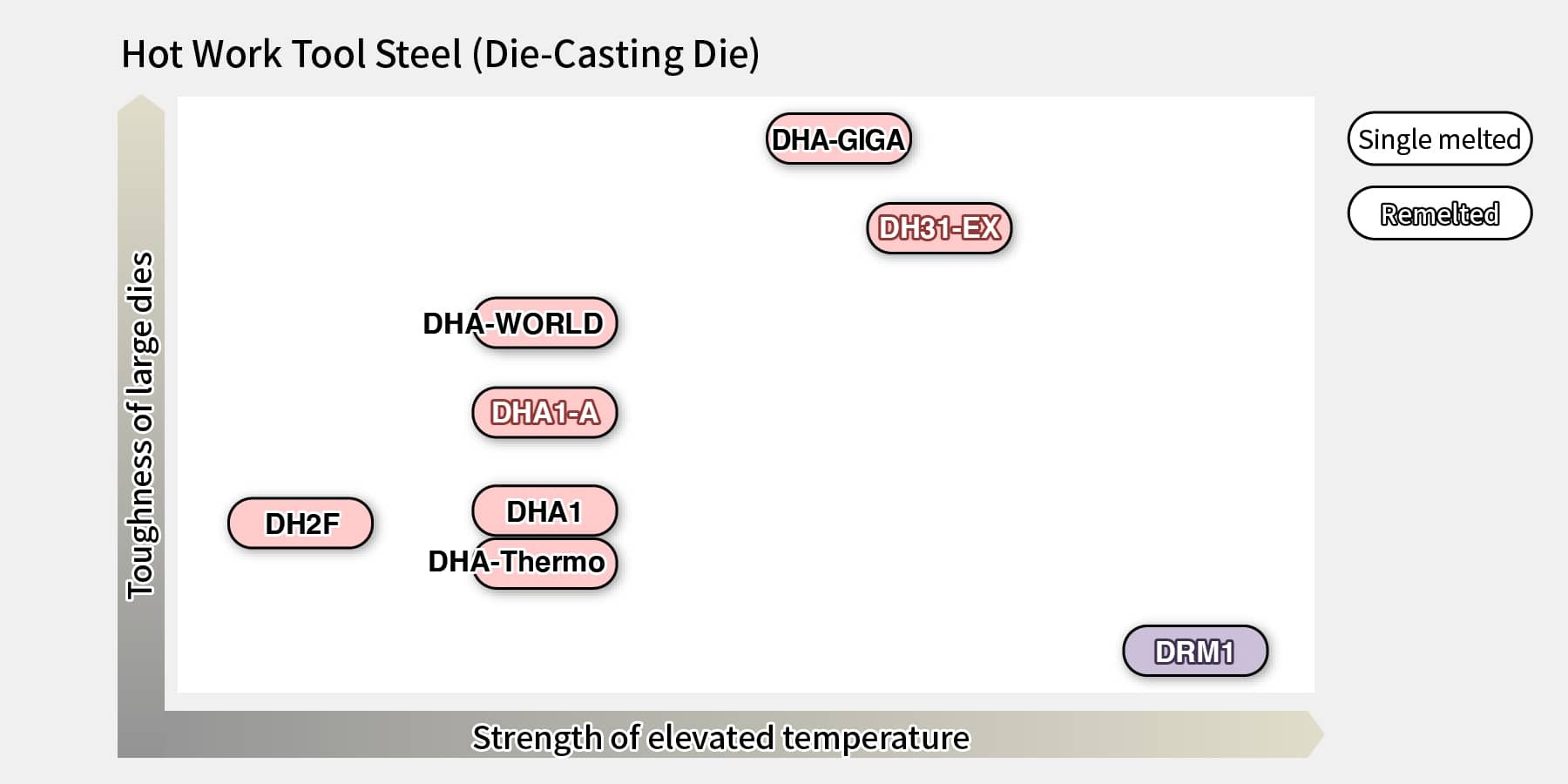 Products list
Grade
Brand name
Equivalent standard
Characteristics
Detailed information
JIS
AISI
WNr.
Special page
Brochure
Technical data
Type H13 &
Modified
(5Cr)
Single
melted
DHA1
SKD61
H13
eq.
1.2344
eq.
・General-purpose hot work die
steel
DHA-WORLD
SKD61
mod.
H13
mod.
1.2344
mod.
・High hardenability & toughness
DH2F
SKD61
mod.
H13
mod.
1.2344
mod.
・40HRC Pre-hardened steel
・Easy machining
Type H13 &
2367
modified
(5Cr)
Remelted
DHA1-A
SKD61
H13
eq.
1.2344
eq.
・Remelted steel of DHA1
DH31-EX
-
-
1.2367
mod.
・High hardenability & toughness
・High strength at elevated temp.
High
Thermal
Conductivity
Steel
DHA-Thermo
-
-
-
・High thermal conductivity
High Speed
Tool Steel
Matrix Type
DRM1
-
-
-
・High toughness
・Maximum hardness 58HRC
Technical Data
No.
Title
Publication / Source
Volume & page
Read the document
S01e
Document with comments "DHA-WORLD"
(No. SD2002)
-
-

Open PDF file

S02e
Document with comments "DH31-EX"
(No. SD2001)
-
-

Open PDF file

A01
熱間工具鋼の被削性におよぼすSi量の影響
大同特殊鋼技報「電気製鋼」
2000年 71巻 2号 p.119-129

Go to J-STAGE site

(A01e)
Effect of Si Content on the Machinability
of Hot Working Die Steels (No. SD2005)
Source: DENKI-SEIKO
(Electric Furnace Steel)
2000, Vol. 71, No. 2, p. 119-129

Open PDF file

A02
熱間工具鋼の被削性におよぼすSiおよび硬さの影響
大同特殊鋼技報「電気製鋼」
2003年 74巻 2号 p.83-92

Go to J-STAGE site

A03
高信頼性汎用熱間ダイス鋼 "DHA-WORLD"
大同特殊鋼技報「電気製鋼」
2010年 81巻 1号 p.47-52

Go to DENKI-SEIKO page

C01
ダイカスト金型のヒートチェックに及ぼす硬さと合金元素 "モリブデン、シリコン" の影響
大同特殊鋼技報「電気製鋼」
2010年 81巻 1号 p.25-31

Go to DENKI-SEIKO page

C02
ダイカスト金型用の高熱伝導率工具鋼
"DHA-Thermo"
大同特殊鋼技報「電気製鋼」
2010年 81巻 1号 p.41-46

Go to DENKI-SEIKO page

C03e
High Thermal Conductivity Steel and its
Application to Die Casting Tools
(No. SD2103)
Source: NADCA Die Casting
Congress & Exposition
2012, Transaction No. T12-071

Open PDF file

C04e
Development and Applications of High
Hardenability Special Quality Die Casting
Mold Steels (No. SD2104)
Source: NADCA Die Casting
Congress & Tabletop
2013, Transaction No. T13-052

Open PDF file

C05
ダイカスト金型用鋼の衝撃値と耐ヒートチェック性
大同特殊鋼技報「電気製鋼」
2017年 88巻 2号 p.101-106

Go to DENKI-SEIKO page

C06
分流子の熱伝導率がその温度とビスケット部の凝固組織におよぼす影響
大同特殊鋼技報「電気製鋼」
2020年 91巻 2号 p.91-96

Go to DENKI-SEIKO page

C07e
Gross crack mechanism analysis for
die-casting die (No. SD2102)
Source: KATA-GIJYUTSU
(Die and Mould Technology)
2020, Vol.35, No.12, p.42-43

Open PDF file

L01
高硬度・高靭性マトリックスハイスDRM鋼の開発
大同特殊鋼技報「電気製鋼」
2005年 76巻 4号 p.279-286

Go to J-STAGE site

(L01e)
The Development of High Hardness and
Toughness Matrix Type High Speed Tool
Steels "DRM" (No. SD2108)
Source: DENKI-SEIKO
(Electric Furnace Steel)
2005, Vol. 76, No. 4, p. 279-286

Open PDF file

L02
金型用マトリックスハイスDRM鋼の実用事例
大同特殊鋼技報「電気製鋼」
2007年 78巻 4号 p.353-360

Go to J-STAGE site
Related Documents
No.
Title
Publication / Source
Volume & page
Read the document
D01
熱間工具鋼の軟窒化後窒素濃度分布に及ぼす合金元素の影響
大同特殊鋼技報「電気製鋼」
2007年 78巻 4号 p.307-314

Go to J-STAGE site

D02
熱間ダイス鋼における軟窒化拡散層のTEM組織観察
大同特殊鋼技報「電気製鋼」
2007年 78巻 4号 p.315-322

Go to J-STAGE site

D03
湯流れ解析によるダイカスト金型のヒートチェック予測
大同特殊鋼技報「電気製鋼」
2014年 85巻 1号 p.53-61

Go to DENKI-SEIKO page

D04e
New Surfacing Material "DHW"
(No. SD2105)
Source: NADCA Die Casting
Congress & Tabletop
2016, Transaction No. T16-042

Open PDF file

D05
数値解析によるダイカストの離型抵抗予測
大同特殊鋼技報「電気製鋼」
2017年 88巻 1号 p.33-38

Go to DENKI-SEIKO page

D06e
Evaluation of Heat Checking of Molds
through Flow and Solidification
Simulation (No. SD2106)
Source: NADCA Die Casting
Congress & Exposition
2018, Transaction No. T18-012

Open PDF file
Inquiries about
Tool Steel